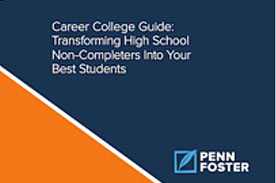 It's no secret that enrollments have been declining at Career Colleges nationwide. With 6 million Americans age 25 to 39 years old lacking a high school or equivalency diploma1, and increasingly limited options to earn their diploma due to changes to the GED and the elimination of Ability to Benefit, many Career Colleges are turning away a growing number potential enrollments that are unable to meet POG requirements. Often times, these non-completers seek out local career colleges as they strive towards improving their marketable skills for in-demand careers " representing a large, but ultimately unqualified, market of interested students.
There is now a way for Career Colleges to enroll these students. Schools across the country have discovered a new solution that drives enrollments at their school, while providing an onramp to higher education for these non-completers in their community. By implementing a quality, accredited High School Completion program, Career Colleges can bring these non-completers onto their campus, provide them an opportunity to get a high school diploma, and enable them to enroll in a career program at their sponsoring school upon graduation. A well-designed High School Completion program will not only increase enrollments, but will generate higher student outcomes when they matriculate as confident students into a program at the sponsoring school.
How high school completion serves as an on-ramp to higher education
Why these students graduate and matriculate
Where to find candidates for the program, and how to scale
Which schools are using this solutions and the results they are seeing

And more...