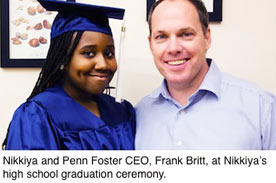 Last week Penn Foster attended the 2014 Accrediting Council of Independent Colleges and Schools (ACICS) 2014 Annual conference, where we co-presented a panel discussion with Dorsey Schools. Denise Fox Pratt (VP of Institutional Effectiveness), Gerrit Ketelhut (Penn Foster program facilitator) and Nikkiya Gentry (Penn Foster High School graduate and Dorsey Culinary Arts student) provided their unique perspectives on how Penn Foster's High School Completion program is creating positive outcomes for local students, Dorsey Schools, and the greater Detroit community. Here are my big takeaways from the panel:
It's All about the Community

" Private sector colleges have been getting a lot of bad press, but not all private sector schools are the same.

For Dorsey Schools, their mission is to provide jobs and career opportunities for students in the greater Detroit area. As Denise pointed out during the session, the High School Completion program is just another way for Dorsey Schools to better serve their community, which was hard-hit by the recession and still has staggering high school dropout rates and unemployment numbers. Dorsey offers the High School completion program a service for their community to help students earn their diploma and help Detroit get back on track.
The Facilitator is Key " Listening to Gerrit boast about his students and how proud he is of them, it was easy to see how vital the role of facilitator is in creating student success in this program. He spoke with glowing admiration about how students come into his classroom - students who had never done well in school before - and start getting A's and B's on tests. He witnesses their confidence expand exponentially, right in front of him. From the rules he establishes for his students to the way he playfully joked with Nikkiya during the session, you could tell this is someone who inspires students to reach for success. "This is the best job I've ever had in Education" boasted Gerrit about working as the Penn Foster program facilitator, and it's hard to argue he's not the perfect fit.

Nothing is Impossible

" If there's one thing anyone should take away from the session it's this: impossible is nothing. Though I've heard Nikkiya's story before, it still amazes me every time: here's a young woman who was homeless at 11, whose mother was completely unsupportive, who has dealt with numerous medical issues " yet she's been able overcome all these challenges and more to not only earn her high school diploma but to go on and excel at Dorsey, and is now weeks away from earning her certificate in the field she loves - with an externship at the Marriott to boot. More than that, her infectiously positive attitude about her past and her desire to help others " including her family and classmates, never ceases to amaze me. Listening to her tell her story to the audience, I couldn't help but think "If Nikkiya can overcome all these obstacles to earn her diploma and follow her dream, what's stopping anyone else?"