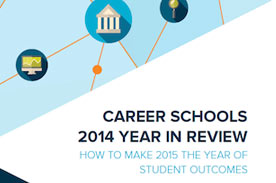 The new year is a time for fresh starts, and for career schools, 2015 is the year for successful student outcomes. The focus on student outcomes serves as a solution for overcoming two major 2014 challenges: declining enrollment and government regulations. Enrollment at public two-year institutions has declined by 2.7% between spring 2013 and spring 2014, according to the American Association of Community Colleges.1 And recent rulings by the Department of Education have also negatively affected academic institutions, from funding and tuition assistance to languishing enrollment rates.
Your key to getting your school back on track is to focus on improving student outcomes including retention, graduation rates and job placements. Here are 3 strategies for you in 2015:
1. Recruitment
If your school's enrollment numbers declined this year as costs increased, it might be time to re-evaluate your marketing strategies. The primary marketing channels for career schools in 2014 were social media, paid search and television advertising, according to our "Career Schools 2014 Year in Review" report, a survey of 120 career school executives. Social media and television advertising performed the highest in effectiveness.
In addition to social media marketing tactics and television advertising, implement hyperlocal marketing. Location-specific digital marketing targets a particular audience in a community and delivers a personalized message. Digital devices like mobile apps and GPS data collection serve as marketing tools for this type of geo-targeted recruitment. The education solutions company Hobsons offers more details about hyperlocal marketing, SEO, local search and conversion.2
An influential partnership can also reach prospective students and change lives through education. Medtech College, a post-secondary college network in healthcare career training, and PlattForm, an education enrollment solutions firm, partnered to enhance both education and marketing objectives - even winning the "Stevie Award" for Marketing Team of the Year. A set of core values and collaboration in conjunction with higher education knowledge and new ideas propelled this partnership in the marketing and recruitment arena.3
2. Enrollment
Not only do prospective students need to be interested and enthusiastic about post-secondary education, they need to be qualified. Career colleges regularly have to turn away potential yet ineligible students because they lack a high school diploma or similar qualification. Partnering with a High School Completion program gives students an opportunity to earn the credential on your campus and helps them matriculate into your school. This enrollment solution is designed to help students develop college and career-ready skills while supporting your school's enrollment and retention rates.
Factors such as employment opportunities, financial aid, academic reputation and personalized attention influence student enrollment decisions as well, according to data from Noel-Levitz and more than 55,000 students in 2012. Students expressed economic issues and future career opportunities as major concerns. Schools can help mitigate these concerns with these tips:4
Make sure tuition and financial aid information is thorough and readily accessible. Help students and families understand complex information and forms.

Provide helpful financial resources and make them easy to obtain.

Illustrate the value of your educational offerings.

Showcase how an investment in post-secondary education produces successful student outcomes.

Stay in contact with prospective students and deliver personalized attention during the decision-making process in person, over email, online, etc.
3. Retention
Once you successfully recruit and enroll qualified students, these students need to stay motivated and engaged and, of course, graduate. Retention and graduation rates are key components for driving positive student outcomes. A lack of college readiness can cause students to get behind and struggle with their coursework. As students feel discouraged, they may be at risk to drop out. Nearly 60% of first-year college students find that they're not ready for college-level work, according to our "Career Schools 2014 Year in Review." Help provide the option to obtain a high school diploma and ensure prospective students are ready for post-secondary studies.
On the other end of the spectrum, students may disengage from their academics due to unchallenging or unmotivating coursework. Maintain program quality and establish expectations. Enhance learning experiences with hands-on, career-oriented projects and internship opportunities. Help students stay focused on postgraduate goals to keep them on track and enthusiastic about the future. Once you attract and enroll qualified, eligible students for your school, set them up for success, from college graduation to employment. The greater your student outcomes, the greater your school can perform for the long term.
Download the full Career Schools: 2014 Year in Review & Insights for 2015 Report to learn more about the challenges, successful strategies and goals for 2015.
Resources: (1) Decline in Enrollment at Community Colleges Continues, But Smaller Than Previous Year (2)How Colleges and Universities Can Increase Enrollment with Hyperlocal Marketing (3) Medtech College and PlattForm Earn "Stevie Award' for Marketing Team of the Year (4) Understanding the enrollment motivations of college students