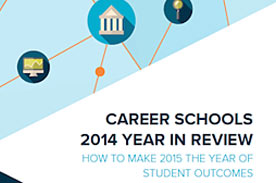 Career schools continue to seek out new marketing channels to help improve recruitment and drive enrollments, but the quality of the student is important for driving retention and graduation outcomes. Often times, career colleges are turning away potential students because they lack a high school diploma or other POG credential. The Penn Foster Career Schools: 2014 Year In Review inaugural industry survey and data analysis provides the following insights:
Identifying the Problem
Enrollment at two-year public institutions fell 2.7 percent between Spring 2013 and Spring 2014. Even though more students currently attend two-year colleges than did before the recession, languishing enrollment numbers in the last three years have forced many colleges to downsize. Each year, slews of eager prospects want or try to enroll in school, but lacking a GED or high school diploma, they can't. Institutions end up turning away interested, potential students on a regular basis. Our survey findings show that 40 percent of schools turn away at least 10 percent of potential students because of education qualifications, and nearly 37 percent say they turn away between 10-30 percent of potential applicants due to this prerequisite.
Make a Change
The GED is often the go-to solution schools turn to as a quick fix for enrollment eligibility. Some campuses even offer on-campus GED programs that prepare students for the test. Sadly, our survey results found that only 30-40 percent of students in campus-administered programs successfully earned their GED. And of those students, less than 20 percent matriculated to the school that provided the program. It's important to explore all alternatives for providing non-completers with an opportunity to earn a diploma.
Try Something New
How can career colleges better tap into the large market of prospective students, stop turning away potential students and increase matriculation and retention? On-campus programs need to achieve more than completion. They must equip students with tools to succeed once enrolled in the career school. Non-traditional students are both motivated and enthusiastic about the opportunity to re-enroll in school, and with an option to do so, they'll quickly become eligible and qualified. Many career schools are using a High School Completion program as a new recruitment tool. Unlike a GED program, students receive academic support on-campus and can complete the program at their own pace.
Career colleges have found this enrollment solution an excellent option for achieving increased enrollments, improved student retention and successful student outcomes because the program is geared toward skills building and college preparation.
To gain more insight on this and other hot topics, download our Career Schools 2014 Year in Review report.