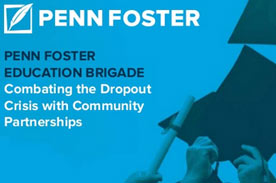 The high school graduation rate in the United States hit 81% in the 2012-2013 school year, the highest it's been since states adopted a new, uniform method for calculating graduation rates five years ago. This measurable improvement in our nation's schools, revealed in new data from the U.S. Department of Education's National Center for Education Statistics, is something that "we can take pride as a nation in," according to U.S. Secretary of Education, Arne Duncan. "This is a vital step toward readiness for success in college and careers for every student in this country, and these improvements are thanks to the hard work of teachers, principals, students and families."
The growing number of students who have graduated from high school - nearly two million additional people have high school diplomas because of concentrated efforts over the past decade - is due to the combined efforts of many people, schools, and organizations across the country.
As a proud partner of America's Promise Alliance, Penn Foster is working hard to help more students earn their high school diploma on their way to future success in school and life. Many of Penn Foster's partnerships with school districts, career colleges, and nonprofits work towards increasing the number of students who earn their high school diploma:
School Districts - Polk County, Florida faced a 40% high school dropout rate in 2007. In response, they built a "Fresh Start" program using Penn Foster's high school curriculum, and have since graduated 700 students with a record high of 214 students graduating during the 2013-2014 school year alone.
Career Schools - Over 80 career college campuses are using Penn Foster's High School Completion program as a bridge for prospective students to to earn an accredited high school diploma and matriculate into their school, giving them the opportunity to continue their education and prepare for a career after graduation.
Youth Organizations - Working with 75+ Job Corps locations across the country, we've graduated over 35,000 Job Corps students who now have a high school diploma and and skills necessary for job placement.
These are just a few ways Penn Foster is helping combat the dropout crisis via the creation of opportunities for students to earn their high school diploma. See how else Penn Foster is working to increase educational opportunities across the country below:
Source: http://www.ed.gov/news/press-releases/us-high-school-graduation-rate-hits-new-record-high