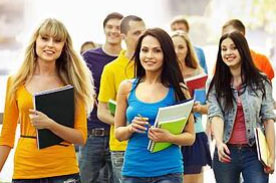 Turning promising leads into new students is a delicate process. Leads have a variety of higher education options and require a certain level of nurturing before they can choose which college to enroll in. As part of the recruitment process, your school can administer a lead nurturing strategy to help inform prospective students about your college and the programs you offer; ensuring they're choosing the school that best meets their needs. Use these six best practices to improve your school's lead nurturing process:
1) Prioritize Leads with an Internal Scoring System
Outreach and lead generation cost career colleges valuable time and money. You want your admissions team focused on the leads who are most likely to convert into enrollments. Therefore, your school can implement an internal scoring system with key indicators to pinpoint and measure varying levels of interest. With an internal scoring system, you can assign a score for key indicators and prioritize lead follow-up based on the score. The following indicators can serve as a gauge for identifying quality leads:
Email open rates, responses, and interaction

Completed contact forms

Number of website visits and time spent on a page

Material and course information downloads

Calls to admissions

Campus visits

Communication surrounding various deadlines, such as application, registration, scholarship and housing deadlines
Set up the internal system so that it automatically scores a lead based on their behavior and engagement. Leads who generate strong engagement will have a higher score which will help your team prioritize their follow-up.
2) Establish a Follow-Up Process
A swift response rate to inquiries is essential for converting a lead. Not only must colleges provide a quick reply, admissions must also provide relevant information that hooks prospects and meets their expectations.
Implement an automated response system as a no-fail solution for communicating right away with people who have made information requests. Then, follow up with a personal email - it is the easiest and least costly way to start the conversation with prospective students. Your admissions department can customize messages tailored to certain variables.
Emails should elicit an emotional response from the prospective student. You want to show appreciation and excitement for their inquiry. For your follow-ups, be sure to include:
A warm reply that addresses recipients by their first name

A personalized follow-up email responding to any specific questions

Connections to your school's social media platforms & community blog

Links to resources that provide information about the school, campus, academic programs, application process, admission details, and financial aid
Once you begin building rapport with the lead through email, reps can begin setting up phone calls to further develop a relationship.
3) Build a Relationship With Leads Using a Multi-Touch Strategy
Further nurture your leads by developing an ongoing relationship with them. To do this, use a series of touchpoints at specified time intervals. Continue to send relevant messaging and reach out to students regularly to maintain a high level of interest. Touch points include tailored content and different methods of communication such as:
Phone calls

Texts

Emails

Mailed letters

Online events

Sign up and registration pages

Invites to open houses
Anticipate the questions prospective students will ask and include calls-to-action in each communication in order to keep them engaged and informed about the enrollment process. Encourage leads to ask questions, and always provide detailed answers and easy-to-access resources.
Have admissions reps keep detailed notes on each lead, including interests in particular academic programs and personal circumstances. This will help your reps gain a better understanding of each prospect in order to tailor the nurturing process to meet the specific needs of each lead. For all prospective students, be sure to offer financial aid opportunities and provide step-by-step guidance toward start dates, class scheduling, and deadlines.
4) The Importance of Testing Messaging
Testing is the best way to better understand what messaging works and what doesn't. With a simple A/B test, your prospective students can directly communicate with you based on their behaviors. The data collected from each test will groom your messaging and ensure your content remains relevant, current, and appealing to your college and career school leads.
When beginning an A/B test, it is important to be aware of what you are testing. Choose a contrasting theme such as adding a first name to a subject line versus the control of not including a first name in a subject line to gather conclusive data. Clear, bold changes will make the winning and losing results easier to evaluate. Here are some other factors to keep in mind while testing:
For abundant and distinguishable data, test using frequently launched campaigns

Randomly split your list to ensure objective results

Only test two variants at a time
Once you have begun accruing valuable data, compare your results and use the winning messaging as your new standard. Continue testing your messaging in various ways to keep up with the ever changing wants and needs of the modern student and to stay ahead of the curve.
5) Developing Personas
Career schools and colleges have a unique challenge in that prospective students come with varied goals in mind. A one-size-fits-all approach to your lead nurture campaign is sure to exclude the majority of the leads you're trying to reach. For example, a potential student who makes a phone call for more information requires a different strategy than a lead who prefers to find answers digitally, and a lead interested in healthcare has different needs than a someone looking to learn a trade.
Developing personas and better understanding your audience will create more personalized messaging and in turn build trust and a solid foundation with your leads. Clues to developing personas can be found in various places:
Gain insight from your lead-facing teams - Your admissions reps work closely with leads and have an understanding of their needs, requirements, and apprehensions.
Evaluate the current student experience - Student-facing teams can offer information about what leads expect by reviewing your current students' pain-points, goals, and demographics.
Review data from past interactions - Use your measured marketing data and observed lead behaviors and responses to better understand what types of leads are entering your funnel.
Since you understand your product and it's real world applications, consider the kinds of problem scenarios your leads are facing and troubleshoot solutions accordingly. Though developing personas may seem like an arduous task, building a personal connection with your leads is becoming increasingly more necessary and will make all the difference in your outcome.
6) Abandon Strategies
Don't let a potential student's interest fizzle-out. By capturing lead data at the time of abandonment, you may be able to regain their attention by directing them back to your site. Strike while the iron is hot by sending out a campaign immediately following abandonment that reinforces why your school is the right choice. Enrolling in a college program is a big commitment, so be sure to highlight the benefits of enrolling with your school:
Extend incentives such as discounts to make the decision easier

Reaffirm your trustworthiness

Express what sets you apart from other schools
Being transparent about fees, restrictions, and other obstacles, as well as offering an array of payment options may keep your lead from abandoning their transaction from the start. As a follow-up to your abandon campaign, you may want to incorporate new tools into your plan to create an effective approach at winning back your would-be student. With some platforms, cookies can be utilized to directly advertise your school to an individual lead through strategically placed digital displays.

Every school and market is different so you will need to adapt these strategies for your own brand and audience. Periodically test and refine your lead nurturing system to learn which strategies are effective and which ones need to be altered to attract motivated, qualified students. By building and testing an effective lead nurture strategy, your school should be able to attract the right kind of quality leads for enrollment.
Recommended for You: 5 Effective Ways Career Colleges Can Improve Retention Rates
Resources: Photo credit. (1) 3 Steps to Lead Nurturing for Increased Enrollment. (2) Nurturing Higher Education Leads.