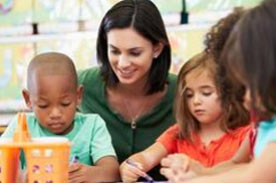 PayScale recently filtered its College Salary Report data to identify careers in which workers report the highest levels of job satisfaction.1 A significant number of well-paying, meaningful jobs only require a two-year associate's degree. This is good news for career colleges, who can now offer and promote programs of study in these fields and help produce better student outcomes.
Early Childhood and Elementary Education
Early childhood and elementary education, which includes daycare teachers, preschool teachers and elementary school teachers, is one field where workers experience a high degree of job satisfaction. They can see they make a difference in the lives of children.
77 percent of early childhood education workers and 81 percent of elementary school education workers feel their jobs are meaningful

Early childhood education workers entered the field with a median starting pay of $30,300, with a mid-career median pay outlook of $38,000, while early-childhood and elementary workers started at $32,900, to advance to a mid-career median pay of $42,300

Elementary school teachers must have a four-year degree, but requirements to be an early childhood education teacher vary by state; career college administrators should check with their state's official department of education website for specifics.2 An associate's degree in early childhood education can be completed within two years.
Health Care Management
Health Care is a rapidly growing field where workers make a tangible difference in people's lives. Health Care managers help health care facilities comply with HIPAA regulations, oversee electronic medical records and coding and plan and coordinate medical and health services.
78 percent of healthcare office managers report finding their job meaningful

The starting median pay for health care managers is $38,200, while the mid-career median pay rises to $67,400

Two- and four-year degrees are available in health care management
Diagnostic Medical Sonography
Diagnostic medical sonography is another expanding branch of the health care field where workers can make a meaningful contribution to patients' health while earning good money - and without needing to go through extensive medical schooling. Diagnostic medical sonography is a field that includes ultrasound technologists, vascular technologists and echocardiographers, all of whom use special imaging equipment to create images or conduct tests of medical patients.
81 percent of workers in these fields report finding their jobs meaningful

Workers in these fields enter with a starting median salary of $57,700, which stands to increase to $70,800 at mid-career

Diagnostic medical sonographers can enter the field with an associate's degree
Administrative Support
Administrative assistants play a vital role in many fields, making a meaningful contribution that promotes job satisfaction. An administrative assistant performs the clerical and organizational tasks for an office, such as filing, answering phones, scheduling appointments and supporting other staff.
63 percent of administrative assistants say their work is meaningful

The starting pay for administrative assistants is $29,300, with a mid-career median pay of $40,300

A degree beyond high school is not necessary for all administrative assistant positions, but an administrative assistant and secretarial science associate degree is a definite career-booster - and it can be completed within two years
Construction Management
Construction management is another well-paying field where workers feel high job satisfaction. Construction managers coordinate and supervise a wide variety of building projects, including all types of residential, commercial and industrial structures.
64 percent of construction managers feel their work is meaningful

A starting construction manager can earn a median salary of $43,900, while a construction manager at mid-career can earn $71,200

There are a variety of specific roles in construction management, such as project manager, superintendent, foreman and project engineer; many career paths do not require a degree. Construction is an industry in which hands-on experience still ranks heavily for promotion. That said, an associate's degree in construction management is a bonus on any applicant's resume.
Career colleges wishing to boost enrollment and meet Gainful Employment standards should consider offering the above five programs and promote these industries to prospects.
Recommended for You: How Career Colleges Can Partner With Local Businesses to Expand Job Opportunities for Students

Resources: Photo credit. (1) Payscale

(2)

U.S. Department of Education