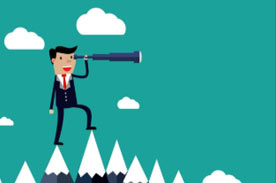 Just like every other sector and industry, the broad field of education has seen a whirlwind of adaptations, innovative advancements, and growing pains over the past few years with the advent of education technology and the modern learner. Schools are working hard to adapt to new standards set by the Department of Education, edtech companies are producing endless new ways to learn, nonprofit organizations continue to find ways to engage the at-risk learner, and employers are banding together to help address the middle skills gap. At Penn Foster, we have the unique perspective of sitting squarely between all of these players. We've witnessed myriad transformations within these spaces, as the shape of education continues to evolve to become more accessible and relevant. As we dive into Q4, we thought we'd take a look ahead and share our five projections for the top education trends for the coming year.
1. Major ed-tech initiatives in schools
Despite there being barriers to accessing digital tools and technologies in some school districts and communities, technology in our schools is here to stay - so says the federal government. The modern learner lives and breathes tech products, and micro-learning and competency-based models are working to engage today's students. Teachers are learning to embrace change, and with New Hampshire leading the charge for statewide competency-based education policies, other states are likely to follow suit as restrictive state-wide education policies are lifted to recognize newer forms of learning.
2. Pairing academic programs with workforce prep
In 2015, 38% of employers had difficulty filling jobs, as the "talent pipeline" from college to workforce struggles to produce work-ready graduates. The competencies that employers seek are rapidly changing to adapt to the marketplace, and the traditional post-secondary route is unaligned with these needs. To address this gap, career schools, alternative education providers, and even employers are offering academic programs to skill-up job-seekers by identifying the common skills and credential gaps of the local marketplace, and working with employers to deliver qualified candidates. This push to align workforce needs with education programs is a sign that higher education will need to adapt from it's current antiquated models and deliver graduates with applied skillsets.
3. Shifting towards a "Skills Economy"
The new skills economy is right around the corner, as companies of all kids are adapting to recognize skills rather than pedigree. "Skills' are becoming the dominant way people are talking about education, resource management and human development. With a 5% national unemployment rate and only 60% of students enrolled in college graduating, jobs are not being matched up properly with available talent. The skills economy matches the demand with the supply for employment. Employers are moving away from traditional hiring formats to testing for skills and utilizing job-matching technologies to find qualified candidates. Job seekers are pursuing nanodegrees and microcredentials, as well as assembling e-portfolios and even competing on gaming platforms as validation for specific hard and soft skills that employers seek. We anticipate the growth and recognition of the skills economy from all stakeholders in the coming years.
4. Movement toward a national, industry-recognized certification system
To adapt to the ever-fluctuating needs of today's workforce, job-seekers and those employed are encouraged to quickly learn new skillsets to stay competitive. However, there is no centralized body that recognizes certifications, badges, or micro-credentials. Each program has varying levels of autonomy, and have developed their own practices, standards, and data delivery, further convoluting the certification environment. This makes it difficult for employers to identify the integrity or rigor of any specific credential. Government officials, educators, school administrators, and all stakeholders will need to come together to define a set of centralized standards for a certification system, so that employers and other academic institutions may understand the value of these programs. Lumina is kicking off this effort with the Credential Transparency Initiative.
5. Giving teachers more agency
Empowering teachers will be critical to implementing any of these changes. Teachers need to once again be able to teach with creativity and with passion, which has at times been squandered by strict regulations, outdated policies, and stretched resources in schools from lack of funding. Teaching can no longer be done in isolation; it is imperative for teachers, administrators, and school districts alike to work as a team, and to implement new planning processes where everyone is there to support and help one another. Through teacher-to-teacher networking, mentoring, promotion of deep professional collaboration, and enhanced opportunities for professional development, a new ecosystem can lift teachers up so that they may also have the opportunities to learn and prepare for new ways of engagement, foster persistence, and continuously rethink and disrupt traditional models of teaching.
Recommended for You: The Top 10 TED Talks All Educators Should Watch, Part 1