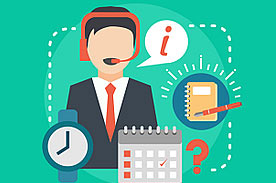 As workforce investment boards, youth organizations, and staffing companies look to provide job seekers with training in in-demand careers, one occupation that has been emerging recently is virtual assistant. As a whole, the market for administrative assistance is expected to reach over 2 million positions by 2024, creating over 300,000 new jobs.1 With today's digital world making it commonplace to work remotely, and may small and medium size businesses looking to outsource certain administrative functions, expect many of these new positions to be filled by Virtual Assistance. Likewise, one report estimated the total market for online working, which includes virtual assistants, will eclipse $5 billion by 2018.2
Virtual assistants work as independent contractors and perform administrative services for clients while working remotely. They generally work from a home office, but are able to access the necessary planning documents remotely.3 Daily tasks may vary based on the client, but often include scheduling meetings, making travel arrangements, paying bills, and performing research.4 In some cases, virtual assistants can assist with social media tasks such as scheduling & publishing posts, responding to comments, and creating shareable graphics & images.5
Virtual assistants may operate their own business with their own established list of clients, work as a freelancer for sites such as Upwork and freelancer.com, or work for digital staffing companies like Zirtual.com, Red Butler, and Fancy Hands. Important skills for virtual assistants to possess include written and verbal communication, time management, attention to detail, organization, and obviously computer skills.6
While no formal state or national requirement exist for employment as a virtual assistant, having a certificate or career diploma can help differentiate job seekers to prospective employers. Staffing agencies like Zirtual often have rigorous tests to vet candidates4, and a virtual assistant training program can help candidates prepare for these tests. Penn Foster's Virtual Assistant Career Diploma can help prepare job seekers with the administrative skills needed to be a successful virtual assistant. Developed by industry experts, this online, self-paced program is delivered on Penn Foster's engaging PFx platform and covers key skills such as written communication & presentation, how to manage time & clients, using social media, and much more.
For organizations looking to provide job seekers with training in in-demand career fields, virtual assistant is an occupation that is expected to be on the rise in the coming decade.
Recommended for you: Forward Thinking Careers: Home Health Aide
---
Forward Thinking Careers offers a closer look at some of the fastest growing occupations in the United States. For other profiles of in-demand careers, click here.
Resources:
Photo Credit
. (1)
BLS: Secretaries and Administrative Assistants
(2)
Virtalent
(3)
Investopedia: virtual assistant
(4)
Zirtual
(5)
5 Things a Social Media virtual assistant Can Do for Your Business
(6)
The VA Handbook