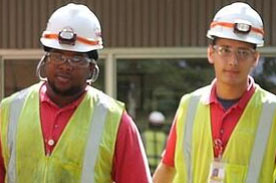 What sets one company apart from others in the industry they serve? Is it their equipment? Vendors? Materials? When those resources are consistently available to all businesses, the true differentiator becomes the employees that make the business run and deliver superior results to the customers. At MetroPower, we understand that satisfied employees create satisfied customers and recognize the need to invest in our people. A recent Bersin by Deloitte Learning Report noted that training and development are the most valued job benefits by millennials, validating the need to dedicate resources toward learning to attract and retain exceptional talent.1
Photo: James Price, current electrician and graduate of Penn Foster Electrician Apprenticeship with MetroPower (left); Luis Martinez, current Electrician Apprentice with MetroPower.
An employee-owned business, MetroPower has created a learning culture to empower its workers and support them in reaching their full potential. One of the primary ways our company does this is through apprenticeship, a training method that emphasizes learning by doing. Upon joining MetroPower, each new hire begins their training with our Department of Labor (DOL)-registered Electrician Apprenticeship, a four-year program combining Related Instruction (RI) and on-the-job training (OTJ) and results in a nationally recognized certificate of completion. In addition to the Electrician Apprenticeship Program, MetroPower also has apprenticeships for Welder Fitters and Sprinkler Fitters. As we have worked to expand our program, I've taken away several learnings on what makes an apprenticeship successful for both the business and the employees " read my top three takeaways below!
1. Use the Resources Available
Both the Department of Labor and state-run apprenticeship agencies work hard to facilitate the apprenticeship development process; their goal is to provide more employment opportunities and grow the labor market as well. Because of this, these agencies often provide complimentary program templates for sponsor businesses looking to build a program. Take advantage of these templates " they are straightforward and can help you navigate a process that may otherwise seem daunting!
Furthermore, the Federal government extends several financial benefits to businesses who register their apprenticeship programs, including eased salary requirements for apprentices on Federal projects, tax breaks, and grants through WIOA funding. Check out a quick overview of the tuition support and tax credits available by state here.
2. Choose Partners Wisely
Selecting the curriculum and partner(s) to provide the RI portion of the apprenticeship is essential to building a successful program, as the theory learning provides the backbone of knowledge for what apprentices will practice on the job. As our partner for over 20 years, Penn Foster worked directly with MetroPower to develop a course curriculum that fit the needs of our commercial and industrial markets. By having the option to use Penn Foster's online program for their RI, our workers are extended the flexibility they need to learn at home or on the go " their learning is not stalled when out-of-state projects or personal obligations arise.
3. Maintain a Strong Relationship with Your Office of Apprenticeship
In addition to using the digital and financial resources available to you from the DOL, building a direct relationship with Federal and State Offices of Apprenticeship (OA) can greatly facilitate your ability to understand the steps to follow throughout the apprenticeship development process. Furthermore, positive relationships and open communications with your state OA can result in the registration of your apprentice program in a matter of weeks. As a Certified Workforce Development Manager, I've had the opportunity to work directly with Georgia's OA Director to act as strong proponents of apprenticeship across our state. By helping both employees and employers understand the true value these training and development programs offer, we can play a role in pushing Georgia's workforce to reach its full potential.
Recommended for You: The Apprenticeship Guide: Why Combining Online Learning with Apprenticeship is a Game-Changer
Resources: (1) Bersin by Deloitte.