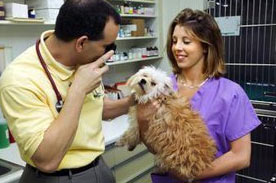 As we continue to look at industries with fast growing careers, another that jumps out with no shortage of jobs is the veterinary services industry. In 2016, U.S. pet industry spending was over $66 billion dollars, a number that is expected to grow by an additional 4% is 2017.1 This number included over $16 billion spent annually on vet care. There are many positions within the veterinary services industry that can provide attractive career paths for youth organizations, workforce investment boards, and nonprofits to place their learners. One position in particular that has proven a good fit for entry-level employment is Veterinary Assistant - which is expected to grow by 9% within the next decade.2
Veterinary assistant is great for learners who are looking to start a career in veterinary services, as they play a major role at veterinary clinics, animal hospitals, and research laboratories.3 Vet assistants are responsible for many daily tasks associated with caring for animals at their facilities, including feeding, bathing and exercising animals, cleaning cages and examination rooms, restraining animals during examinations, monitoring animals after surgery, and giving medication that veterinarians prescribe. They may also assist in the collection of blood, urine, and tissue samples or help provide emergency first aid to sick and injured animals, is necessary.
Empathy and kindness are key qualities for veterinary assistants to possess when working with animals, as well as their owners. Likewise, communication skills are key when working with pet owners, as well as when working with veterinarians and vet techs, particularly during emergencies and other sensitive situations. Additionally, it is crucial for veterinary assistants to be detailed oriented in order to follow the myriad procedures and instructions in a veterinary clinic. Finally, physical strength and dexterity are critical when handling and working with animals.
Most, if not all, veterinary assistants possess a high school diploma. Many receive on the job training, but may also have a career certificate or diploma focused on veterinary assisting. While not mandatory, the National Association of Veterinary Technicians in America (NAVTA) offers the Approved Veterinary Assistant (AVA) designation4, which shows that workers have demonstrated competency in animal husbandry, facility administration, and animal health & welfare. To quality for the designation, candidates must graduate from a NAVTA-approved program, such as one offered by Penn Foster, and pass the certification exam.
With strong growth potential over the next decade, Veterinary Assistant is well positioned as an attractive entry-level career field for years to come.
Recommended for you: Three Reasons Why Certified Veterinary Technicians are Essential to Every Veterinary Practice
---
Forward Thinking Careers offers a closer look at some of the fastest growing occupations in the United States. For other profiles of in-demand careers, click here.
Resources: Photo Credit. (1) American Pet Products Association (2) BLS: Veterinary Assistants and Laboratory Animal Caretakers (3) BLS: What Veterinary Assistants and Laboratory Animal Caretakers Do (4) BLS: How to Become a Veterinary Assistant or Laboratory Animal Caretaker