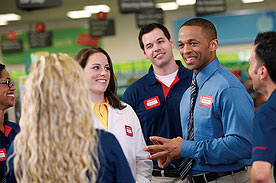 It's no secret that the retail industry suffers from high turnover - with a median turnover rate of 67% for part-time employees.1 This presents many challenges for retailers, chief among them the ability to ensure a consistently and thoroughly training workforce. One position, in particular, that is critical to train and yet often gets overlooked is that of retail supervisor, employees responsible for overseeing store associates either within a department or across an entire store.
Whether you are a retailer looking to fill a vacancy or an organization working to prepare students to work as retail supervisors, make sure to include these topics as part of any training program:
The Customer Experience
Working in retail, it is essential for supervisors to have a thorough understanding of the customer experience, including customer service, customer behavior, and even store design & maintenance. Training should start with the customer, focus on the steps they take in the decision-making process as well as the factors that can influence their buying behavior. Additionally, vital that supervisors have a good grasp of customer services and conflict resolution techniques, as they are the first ones to handle an escalation of any customer complaints. Lastly, retail supervisors need to have a solid understanding of the physical design of a retail space - and how these factors can influence purchase decisions and enable upsell opportunities by store associates.
Products & Services
In addition to understanding the customer, retail supervisors must also have a clear understanding of the products or services they are selling. Retail supervisors should have a detailed understanding of every product they sell - including where it fits into the overall product lifecycle and any complementary or substitute products. Likewise, supervisors should know the key factors for determining product and be able to apply those to maximize sales at your location. Retailer supervisors at locations selling food should also have a complete understanding of food safety guidelines and regulations, including the causes of foodborne illnesses, proper food storage, and proper hygiene procedures to prevent food contamination.
People Management
As a first-line supervisor, one of the most necessary skills is how to effectively manage and lead people. Supervisors should be trained to identify management techniques that fit best with a given employee's traits, and how to effectively apply that in the workplace. Likewise, with turnover a major concern in the industry as a whole, supervisors should have an understanding of (1) effective strategies to support employee retention and (2) if necessary tactics to successfully recruit, interview, and onboard new employees. Again here, it is also important to train supervisors on conflict resolutions tactics specifically targeting employees, to ensure they can create and manage a cohesive and effective workforce.
Retail Business Management
Finally, retail supervisors, particularly those identified as candidates for higher up management positions, should have a solid understanding of retail operations and retail business management. While this can include many topics in itself, a few areas to focus on for supervisors can be retail accounting, financial planning, and workforce management. Retail supervisors should be able to calculate the profit from any item, factoring in its sales price and discounts - and from there apply this to understand the impact of promotions and markdowns. Additionally, it is helpful for supervisors to have a literacy in the various lines on a financial report, such as total sales and cost-of-goods sold (COGS). Workforce management is equally as important when it comes to scheduling, analyzing staffing needs to most effectively operate the business, and delegate job assignments to make the most out of a stores' skillset.
While some companies may choose to training retail supervisors internally, online programs such as Penn Foster's newly launched Retail Supervisor Career Diploma can help supplement your organization's existing training program. By focusing on these four topics, you will ensure that your retail supervisors are prepared to operate efficiently, deliver superior customer service, and positively impact your bottom line.
Recommended for you: The ROI of Soft Skills Training is Probably More Than You Think
Resources: Photo Credit. (1)
Cisco: The worst problem in the retail industry? Turnover.