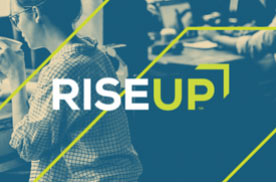 As the United States economy continues to trend in a positive direction, many industries are still left wondering how to fill a surplus of open jobs with skilled workers. The retail industry isn't immune to this effect by any stretch, as the turnover rate in the industry was a whopping 13% as of March 2018.¹
To combat the growing skills gap in the retail industry, the NRF Foundation last year launched RISE Up, a training and credentialing initiative that seeks to help people obtain retail jobs, promote retail as a career path, and improve the public perception of the industry. According to NRF Foundation president Ellen Davis, the issue itself can be boiled down to the simple fact that, by and large, many people who are interested in retail jobs simply don't have the necessary skill sets to perform the jobs at a high level.
"There's a widespread assumption that anyone can find a job in retail and retailers will hire anybody. But when you talk to companies, you find out that that's not the case," Davis said in a press release published on Women's Wear Daily. "It's not necessarily easy for anyone to get a job in retail. In many areas, the skills that people have are not keeping pace with jobs that exist today. We want to make sure people have the right skills."
As a part of RISE Up, the NRF Foundation has recently decided to increase investments in its Retail Industry Fundamentals course in order to develop the next wave of skilled retail workers. To do this, they partnered with Penn Foster to transform the course into a mobile, 10-hour program that teaches people the fundamentals and new skills necessary to successfully perform entry-level retail jobs.
The NRF Foundation felt that using Penn Foster's platform to deliver the curriculum would offer a vast improvement in user friendliness from their previous education tool, resulting in increased enrollments and completion rates from the program.
Retail Industry Fundamentals, which seeks to help people learn skills such as sales, merchandising, and customer service, allows learners to be trained on their own time and at a pace that's comfortable for them.
See how your organization can offer Retail Industry Fundamentals to your employees and learners by clicking the link below!
Source: NRF Foundation (Image), (1) LinkedIn