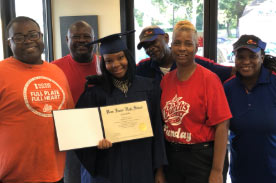 For many in the service industry, the struggle to balance life and a retail shift schedule leaves little time for chasing career aspirations or returning to a traditional brick and mortar institution. And the opportunity to apply for jobs with better hours, better pay, or greater responsibilities often require a high school diploma. This can leave valuable workers like Chantel Maull, a two-year employee of Church's Chicken without many options for improvement. But Chantel has a lot to celebrate having recently earned both a high school diploma and a promotion from her employer.
A high school program that works for the individual learner
Chantel Maull wanted more from her job-she wanted a career. One where her hard work and dedication could lead to opportunity. The Stride for Success program at Church's Chicken offered her just that.
Chantel's story is one we've heard before; traditional school wasn't a good fit and limited resources left her wanting for an essential credential. Ascending to the next level of her career was prohibited by her lack of a high school diploma, but fitting in the rigorous curriculum of the diploma program into her now hectic and work-bound schedule was daunting. She needed something that fit into her life-however variable that may be.
"I needed something where I could focus more than I could in [traditional public high school]," Chantel explained. "With the Penn Foster program, I could work at my own pace."
The Stride for Success program, powered by Penn Foster's one-of-a-kind online learning platform PFx, is helping workers at Church's Chicken locations nation-wide to make learning happen whenever and wherever necessary. Flexibility is at the heart of the program, allowing independent study to help students grasp concepts at their own pace, not at the pace of an entire class.
Help when she needed it the most
Like a traditional high school program, the curriculum can be challenging at times. Penn Foster's wrap-around support offers 24/7 guidance, a wealth of self-help tools, and a dedicated Success Coach that provided Chantel--and others like her--with the support she needed, whenever she needed it.
"They really do work with you to help you get your diploma," she said. "I would definitely encourage people to enroll in the program."
Her manager, Mose Walker, and the rest of her Church's Chicken family helped to keep her motivated throughout her academic journey, an added incentive to completing her diploma program.
A credential that opens doors
Once she obtained her diploma, Chantel knew she was capable of more. With a renewed hunger for chasing her goals, Chantel applied for the position of Shift Leader at her Montgomery, Alabama Church's Chicken and was granted the position. Becoming a Shift Leader increased her earning potential, gave her greater responsibility to improve her resume and refine her skills, and ultimately a pathway to the career opportunities she had been searching for. Looking even further into the future, Chantel plans to eventually pursue a career in the United States Air Force.
Penn Foster is a proud partner of Church's Chicken. The Stride for Success program continues to help working learners like Chantel to accelerate and thrive in their careers. These employees in turn are excited to continue working with Church's Chicken, filling valuable roles that can lead to better profitability for the organization. Find out how Penn Foster's fully customizable career-focused and high school curriculum can help your business improve.