3 Ways to Advance Your Mechanics
Posted by Emma Rose Gallimore on August 20, 2019
Electric cars. Hybrid engines. On-board computers. Technology is changing the automotive repair industry. Your success as a repair shop depends on the quality of your mechanics. Are they keeping up with changing technology? Do your best mechanics stay with you, or move on to new opportunities in other shops?
You need a strategy to keep your best employees and stay on the cutting edge of technology. When you advance your mechanics with training and development opportunities you address both problems at once. Well-trained workers stay at your shop longer, give back as mentors and supervisors, and provide higher quality service to your customers.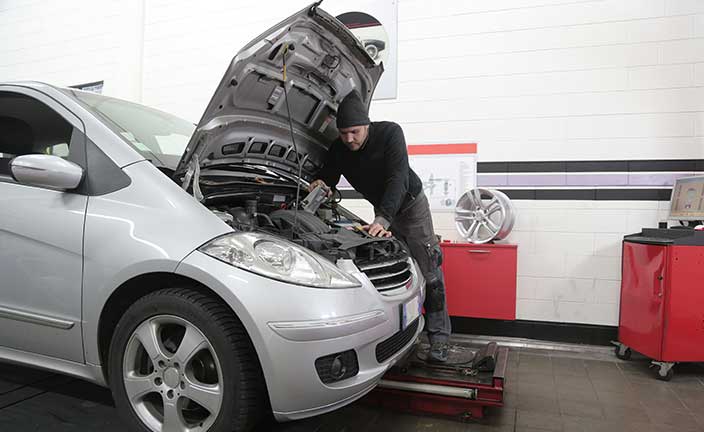 State of the industry
By 2022, the global automotive aftermarket industry will be worth more than $1 trillion US dollars according to Global Industry Analysts. In the United States, where public transportation systems only exist in major cities, 88% of the population owns a car. That's a huge potential market for mechanic shops.
At the same time, shipping across the continental United States requires transport by truck or train. Both have diesel engines that need regular maintenance and repair. According to the American Trucking Associations, there are more than 3.6 million heavy-duty Class 8 trucks on the road. About 26,546 locomotives travel the class I railroads. Nearly all of them are diesel or diesel-electric.
The transportation industry needs qualified mechanics to work on these engines. According to the Bureau of Labor Statistics, demand for automotive service technicians and mechanics is expected to grow 6% by 2026. Demand for diesel service technicians and mechanics is expected to grow a little faster at 9%.
However, the job of the mechanic has changed in the last decade. More and more automobiles have computers in them. Electric cars, trains, and even long-haul trucks are no longer science fiction, they're on the roads and rails today.
To stay effective, mechanics and the shops that employ them need to adapt. Staying up to date on new changes, building technical expertise, and providing exceptional customer service are all essential. When you help your mechanics advance in these areas, you keep your shop and your team relevant into the future.
Why upskill mechanics
Advancing and upskilling your mechanics brings several layers of benefit to individual mechanics and the shop as a whole. When you upskill your mechanics you:
Improve retention. Multiple studies have found that employees want the opportunity to learn and grow. When you provide those opportunities, employees stay in your shop longer.

Boost job satisfaction. When employees feel confident in their skills and can see a path for advancement, they're happier at work. Happy employees work more efficiently, provide better service, and stay in the job longer.
Enhance performance. Well-trained mechanics contribute to the success of your shop. They offer higher quality service more efficiently.
Most importantly, upskilling mechanics helps your shop stay relevant. In a world where automobiles are filled with technology and electric cars are becoming more common, auto shops need to stay at the cutting edge. By offering exceptional customer service from well-trained mechanics your shop can stand out from the rest.
3 ways to advance your mechanics
Giving your mechanics the tools to thrive in their current jobs and advance to new and more challenging positions is just good business. As their skills expand, they can give back more to your shop. Well-trained mechanics can also mentor their peers and help improve operations.
Here are three programs that can help you advance your mechanics:
Diesel Mechanics and Heavy Truck Maintenance Program. Prepare your mechanics for the National Institute for Automotive Service Excellence (ASE) Certification Medium-Heavy Truck tests with this online program. Mechanics can study on their home computer, in the shop, or on the go using a mobile device. They'll learn truck engine operation, diesel engine fundamentals, and truck maintenance while building specialized skills in electrical, computer, HVAC, suspension, steering and braking systems on diesel trucks.
Supervisory Skills for the Industrial Workplace. The opportunity to move into a supervisory position is one that most mechanics would jump at. However, without the right leadership training, they may not succeed. Give them, and your shop, the best chance at success with this online training program. They'll learn to lead teams, solve problems, manage conflict and meet OSHA requirements.
Professional Skills. Mechanics need more than technical skills if they want to advance and thrive in the industry. They also need professional skills like customer service, communication, and teamwork. Help your team improve their soft skills to make your shop stand out from the competition. Penn Foster's Career Readiness Bootcamp, will teach your mechanics the soft skills they didn't know they needed.
These three programs are just the beginning. Mechanics can also develop specialized skills in Automotive Transmissions, Small Engines, or Motorcycles. Penn Foster can work with you to create fully-customizable playlists, tailored to your business needs. Help your mechanics build a career pathway through training and development.
All Penn Foster training programs are online and self-paced. Your mechanics can study when and where it's convenient for them without taking time off from work. They'll get dedicated success coaches and the support they need to complete the program. Contact our team to develop a training or apprenticeship program for your mechanics.