High School
Accredited High School Diploma Program for Your Learners
With over 30,000 graduates annually, Penn Foster is one of the largest, privately licensed high schools in the United States. Delivered in an online or blended-learning setting, Penn Foster High School is both regionally and nationally accredited. As the trusted solution for employers, educators, and human service organizations, we provide opportunities and pathways for compulsory age students and adult learners to earn their high school diploma.
Our high school solutions — from our robust, full curriculum to individual credit recovery and career-focused courses — are designed to meet the unique needs of your organization and learners.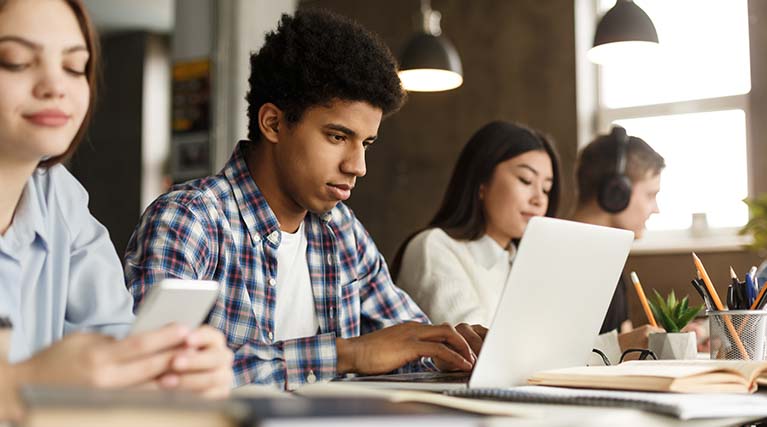 This program includes: 
A robust curriculum that covers standard subjects like English, math, history, and science while helping learners build strong communication and writing skills.
Career-focused and academically challenging electives so learners can choose the best path for their career or educational needs.
A flexible, mobile-friendly platform that allows learners to study on-the-go and around their work schedule.
Includes wraparound learner support and access to instructors and coaches, ensuring your learners or employees successfully progress through their diploma.
High School Curriculum
16 core credits
5 elective credits
Career pathway options
Flexible exams and assignments
Penn Foster's accredited High School Diploma Program curriculum is designed to help learners further their education and serve as the foundation for career pathways in the future. Our flexible, online courses align with state and national high school standards, ensuring your learners develop the essential skills they need for personal and professional success. The course curriculum covers:
9th -12th grade English, math, science, and history
19+ vocational, academic, and general education electives
Written communication and reading skills
Interpersonal skills
Show Full Curriculum
Our Partners
As the trusted training provider for leading employers, education providers, and job training organizations, Penn Foster designs and delivers digital and blended learning programs that attract, upskill, and retain workers in America's fastest-growing fields and professions.
Penn Foster currently works with hundreds of leading employers to meet their unique organizational needs.
How it works
Our Proven High School Learning Model
High-quality, online education for your learners
Online Delivery
Digital platform allows for studying any time, any where
Content is available via computer, mobile device, or tablet
24/7 access to online resource library and knowledge base
Engaging Content
Programs include simulations, videos, and virtual demos
Varied learning methods help cement application of concepts
Real-time feedback enables efficient mastery of material
Robust Support
Self-service tools and unlimited multi-channel support
Live and recorded webinars hosted by our faculty
Access to peer-to-peer community of learners
Real World Credentials
Training programs focus on today's in-demand job skills
Content developed by professional leaders in the field
Courses align to industry certifications and accreditation
$name
According to national averages from the Bureau of Labor Statistics, employment for veterinary technicians is expected to grow 16% over the next 10 years.* That is a much faster growth rate than almost all other occupations.
$name
Penn Foster's Veterinary Technician Degree Program is one of only a few programs with full accreditation from the American Veterinary Medical Association (AVMA), through their Committee on Veterinary Technician Education and Activities (CVTEA).