How Online High School Can Benefit Your Learners
Posted by Des Sinkevich on December 21, 2021
Today, over
70% of jobs require, at minimum, a high school diploma
in order to qualify for the position. A high school diploma or equivalent is also a minimum requirement to enter the armed forces and pursue higher education. And yet, there are still
39-40 million Americans
who haven't attained this credential, hindering opportunities for potential workers, employers, and the economy as a whole.
While there are a variety of programs that can help dropouts and adult learners earn a diploma or GED, many require attending scheduled classes or completing their studies on a timeline that can interfere with work – leaving these adult students to choose between their income and their education. But it doesn't have to be that way. By offering an opportunity to finish high school online, employers can improve employee retention and create a talent pipeline for future skilled roles. These benefits don't just apply to employers. Higher education institutions can see increased matriculation through high school diploma programs.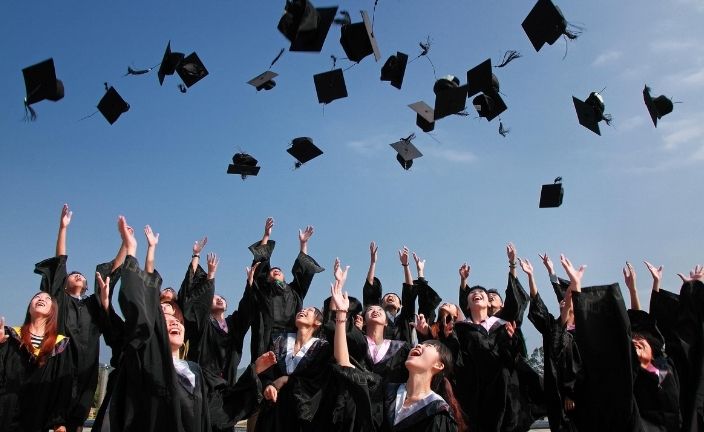 4 benefits of offering high school completion programs to workers
Offering a pathway to higher education, career growth, and financial stability is a win-win for employers, workers, and learners. If you're thinking about implementing offering an education benefits program you may look forward to the numerous benefits. These include:
Increased employee retention. Education benefits are proven to increase employee retention, with research finding that retention increased at least 20-40% for workers participating in a program. By offering the opportunity to finish a high school diploma, you're not only encouraging employees to stay with your company – you're building their confidence in their skills and investing in the future of your business.
Decreased turnover. Amid a historic shift in labor and the workforce, the Great Resignation has seen more workers than ever voluntarily leave their jobs behind for new and better opportunities – this cost of turnover can be devastating. However, by investing in employee education and growth, you encourage workers to stay – after all, they want to finish their high school diploma.
Lower recruitment costs. With higher retention and reduced turnover rates, it makes sense that recruitment costs would be significantly lower. On average, it can cost a company at least $4,000 per new hire. If you're in an industry that regularly deals with high turnover – for example, in restaurants and foodservice, turnover has hit a historic high of 130% post-pandemic – constantly recruiting and replacing workers can add up, negatively impacting your bottom line.
Improving higher education opportunities for your employees. Businesses aren't the only ones that benefit from offering high school diploma opportunities. For higher education institutions, from trade and technical schools to four-year colleges, implementing a high school completion program can increase matriculation and graduation rates over time. Northwest Career College offers a perfect example of how high school completion leads to higher enrollment. After implementing a program that utilizes Penn Foster's accredited high school, Northwest saw a 336% increase in enrollments and an 85% increase in matriculation into the college.
How to implement a high school completion program
Implementing a high school completion program at your business or school can clearly make a positive impact. But how do you get started? The first step is finding a recognized, accredited high school that offers flexible, online courses and has experience working with organizations like yours to meet your specific goals. Through a program like Penn Foster's, learners can work toward graduation at the pace that works for them, building confidence in their skills over time. For employers, that means that workers can learn around their work schedule. For schools, an online high school program can allow learners to work independently with the assistance of on-site teachers or program leaders.

After finding your trusted high school diploma partner, the next steps include effective marketing and awareness campaigns. This includes newsletters, emails, and, for schools looking to attract new students, online ads. Once your program is in place, taking advantage of the support and services offered by your provider is essential to success. With Penn Foster, partners and their learners have access to customizable student success plans, study and note-taking guides, webinars, and instructors.


Partner with a trusted, accredited online high school
By partnering with Penn Foster to offer high school diploma and completion programs, your organization can help enable career success for your learners. Through flexible coursework, instructor feedback, and dedicated support services, your learners can reach their goals while providing your organization with increased employee retention or higher student matriculation rates. To find out how Penn Foster can work for you and learn how we have helped other institutions achieve their goals, reach out to our training experts today!