Why Veterinary Telehealth is Necessary for Your 2022 Plan
Posted by Mara Hyman on January 20, 2022
While telemedicine isn't a new phenomenon in the veterinary industry, it quickly became a priority during the onset of the pandemic. Fast forward to today, and telehealth services are vital to the growth and stability of veterinary practices as hospitals are working to keep up with client needs and demand.
In order to meet demands and the growing expectation of telehealth services, many leading veterinary groups and hospitals are turning to their staff of veterinary technicians to help manage the influx of telehealth appointments. As you finalize your business plans for 2022, here's why you should consider implementing telehealth services, or making them a priority if they aren't already: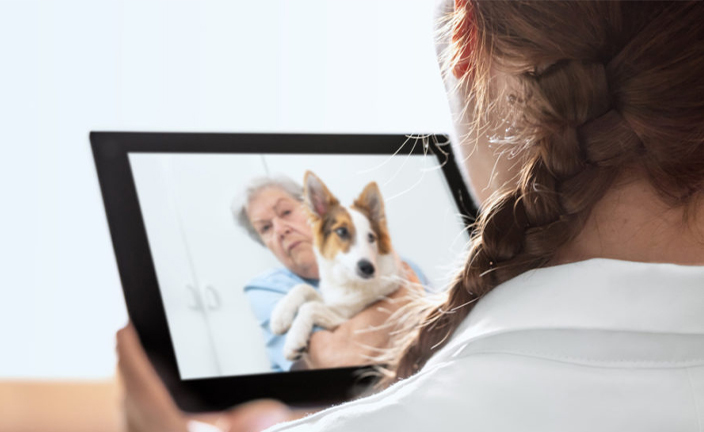 1. Veterinary telehealth provides greater flexibility for both clients and staff
If a client knows that a virtual appointment is an option, especially for addressing simple questions, they may be inclined to choose that over an in-person visit, particularly as concerns around COVID-19 continue. This will save both the client's and veterinarian's time, allowing veterinary technicians to focus on basic services so that vets can focus on more urgent cases.
Ultimately, by enabling your veterinary technicians to work to the top of their license and provide care virtually, your practice will be able to see more patients. Further, your clients may decide to take part in more frequent wellness appointments due to the ease of scheduling one virtually, ultimately improving the quality of care for their animals and increasing the volume of appointments booked.
2. Veterinary telehealth modernizes your business to meet clients' needs
While telehealth services can't completely replace in-person visits, a balance of the two can greatly improve care, modernizing your business and expanding its capabilities. As the industry continues to evolve, these services can help you remain competitive and stand out to prospective clients interested in effective, long-term animal care.
If a veterinary practice implements telehealth services and prioritizes investing in quality technology, that may boost customer service and reliability, knowing that a short consult could be just a click away. Modernizing your systems can also improve efficiency when sharing medical information with clients and giving them convenient access to what they need to handle their pets in the comfort of their own home.
3. Veterinary telehealth expands the capabilities of your staff
Practices became overwhelmed during the early days of the pandemic with a boost in pet ownership, causing many businesses to assess how they can operate more effectively to meet new and existing clients' needs. With changing federal and state regulations regarding the veterinarian-client relationship, this poses the opportunity to make telemedicine not just an option, but an integral part of a veterinary practice.
Offering telehealth training to your employees, specifically veterinary technicians, will expand their capabilities, keeping them more engaged at work knowing that their employer is investing in their growth. This, in turn, can help reduce staff burnout and increase employee morale. When veterinary technicians' skills are invested in and utilized for telemedicine, organizations may see higher retention rates as the team feels more valued at their practice.
Related article: How the Pandemic Has Changed Veterinary Medicine
Upskill your veterinary team with telehealth training
Penn Foster is excited to launch a cutting-edge, online Veterinary Telehealth Career Certificate this month. Our program will help directly address the increased demand for veterinary telehealth services and help ensure that your team is equipped with the skills needed to seamless interact with technology for the betterment of your clients, their animals, and your business.
To learn more about this new Penn Foster program and the value it can add to your business, speak with a Penn Foster training expert today.