Machinist
Apprenticeship
Advanced
Online Machinist Apprenticeship Program
Penn Foster's Machinist Apprenticeship Program is specifically designed to meet leading industry standards and ensure your workers have a complete understanding of the machine shop. By learning about safety, metalworking, and tool handling, trainees will learn the foundational and advanced skills they need to be effective machinists for your organization.
Penn Foster's online apprenticeship programs can be configured to meet the unique needs of your organization as well as regional or state licensure requirements.
Includes wraparound learner support and access to instructors and coaches, ensuring your workers successfully progress through the training and excel on-the-job.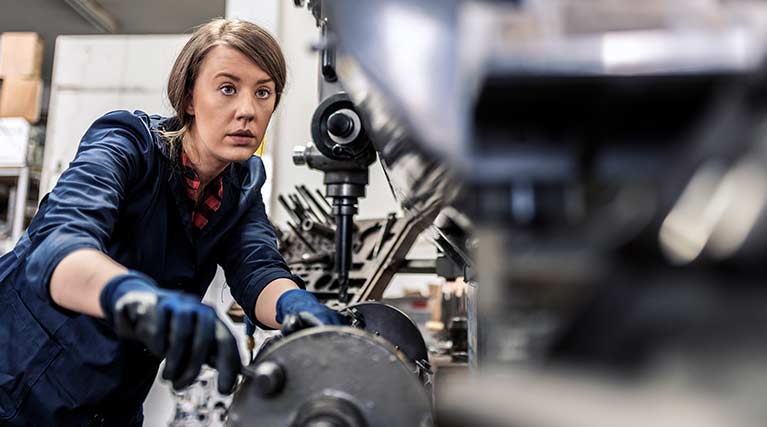 What Your Learners Will Study
Processing ferrous and nonferrous metals.
Understanding conversational programming (CNC).
Safety procedures and established regulations related to workplace and job requirements.
The basics of drafting with AutoCAD in relation to metalworking.
Machinist Apprenticeship Curriculum 

Estimated Base Curriculum Duration: 888 hours
Penn Foster's Machinist Apprenticeship Training curriculum covers the essential skills your employees need to become qualified machinists. Online courses include:
Trades safety
Machining, metal working, and CNC
Milling machine fundamentals
Fundamentals of metal cutting
Show Full Curriculum
Our Partners
As the trusted training provider for leading employers, education providers, and job training organizations, Penn Foster designs and delivers digital and blended learning programs that attract, upskill, and retain workers in America's fastest-growing fields and professions.
How it works
Our Proven Apprenticeship Model
High-quality, online skills training for your employees

Online Platform
Digital learning platform allows for learning flexibility
Online content is available via computer, mobile device, or tablet
24/7 access to online resource library and robust knowledge base
Scalable Delivery
Provide training for 1-1000+ workers across several locations
Technical skills studied online are consistent for each employee
Pre-apprenticeships available to build your talent pipelines
Configurable Training
Expert training consultants can tailor programs to meet your needs
Can align apprenticeships to state licensing, DOL or SAA requirements
Thousands of modular courses that train for in-demand occupations
Innovative Learning Experience
Programs include interactive simulations, videos, and demos
Varied learning techniques help cement application of concepts
Engaging technology promotes skill retention for on-the-job recall
$name
According to national averages from the Bureau of Labor Statistics, employment for veterinary technicians is expected to grow 16% over the next 10 years.* That is a much faster growth rate than almost all other occupations.
$name
Penn Foster's Veterinary Technician Degree Program is one of only a few programs with full accreditation from the American Veterinary Medical Association (AVMA), through their Committee on Veterinary Technician Education and Activities (CVTEA).