Offering Healthcare Training Can Help Your Company Succeed
Posted by Des Sinkevich on February 2, 2022
As we head into the third year of the pandemic, skilled healthcare workers are more vital than ever. But with long hours, staffing shortages, burnout, and other challenges impacting current employees and the number of prospective new hires, healthcare employers face an uphill battle to attract the workers they need.
Higher hourly pay, hiring bonuses, and other perks can be effective in encouraging applications, but the real challenge is ensuring you retain new hires. One way to do that is to offer training and education opportunities for in-demand careers, allowing workers to develop needed skills and grow within or even outside of your organization.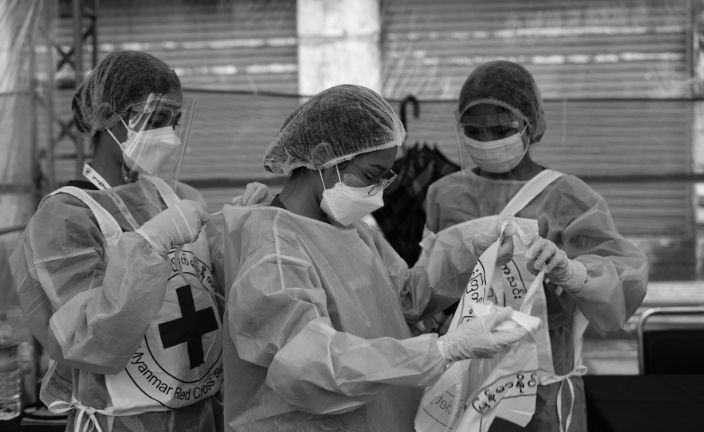 Why offer training programs to your healthcare workers
The worker shortage has impacted every industry, but amid the battle against COVID-19, healthcare organizations have been one of the most affected by the large numbers of healthcare workers leaving their careers for new, less stressful opportunities. The Bureau of Labor Statistics estimated that the healthcare industry has lost at least half a million employees since the start of the pandemic in 2020. Morning Consult, a survey research company, found that around 31% of current healthcare workers are thinking about quitting their jobs.
With so many workers struggling with burnout due to long hours and staffing shortages, finding ways for them to want to stay may be difficult. But by offering education benefits and career training opportunities, research has found that employee retention increases 20-40% for those enrolled versus those who aren't.
Obviously, research and survey data show that education benefits are a win-win for employers. But what training programs should you offer to encourage your healthcare workers to enroll? Allowing them to prepare for in-demand careers within and beyond your organization could be key.
In 2022, top healthcare roles won't just be in nursing and hospitals; the need for workers in support roles and administrative jobs like medical assistants and home health aides is predicted to grow by 10.7 million jobs in the next five years. That means there will be a lot of competition to attract and retain employees in the industry. Preparing your workers for new opportunities will be essential to the success of your organization.
Predicting the top healthcare roles in 2022
As the previous research shows, there will be numerous job opportunities in in-demand healthcare roles that don't necessarily require earning a four-year degree. In 2022, we predict that these jobs will be the most in-demand:
Why offer training in roles your organization doesn't have
Offering education and training in roles that are applicable to your healthcare organization is an obvious strategy to create a talent pipeline and prepare your employees and new hires for the duties they're expected to perform. But why offer training in careers that could allow your employees to explore careers outside of your organization? Outskilling – training employees for jobs outside your organization – provides several benefits to employers and companies.
Outskilling isn't a new concept – large corporations like Amazon and McDonalds started outskilling programs years ago – but it's one that is becoming more recognized as an effective employee benefit as the pandemic has increased worker shortages and the Great Resignation caused many employees to switch careers. Through outskilling, companies may lose employees, but the long-term benefits that an effective employee training program offers will attract new, talented workers to your organization. Outskilling can improve company culture, establish positive employee relationships, and allow your company to stand out when searching for job candidates. It shows that, as a company in any industry, you're invested in your workforce, which can mean more to potential applicants than salary ranges and other benefits.
Partner with a trusted training partner to upskill and outskill your employees
Penn Foster's online training programs allow employers to provide effective training to new hires and current employees, preparing them for certification, employment, and more. To learn more about offering education and training benefits to your employees, reach out to our training experts today!