Electrician - Residential & Light Commercial
Apprenticeship
Advanced
Online Electrician Apprenticeship Program
The comprehensive, online Related Technical Instruction (RTI) for a Residential and Light Commercial Electrician Apprenticeship program can be configured to meet the needs of your business and state licensure requirements. Our digital learning effectively complements on-the-job training to ensure your employees are ready for real-world electrical work.
Our online curriculum can be designed to support pre-apprenticeship, apprenticeship, and other advanced training programs.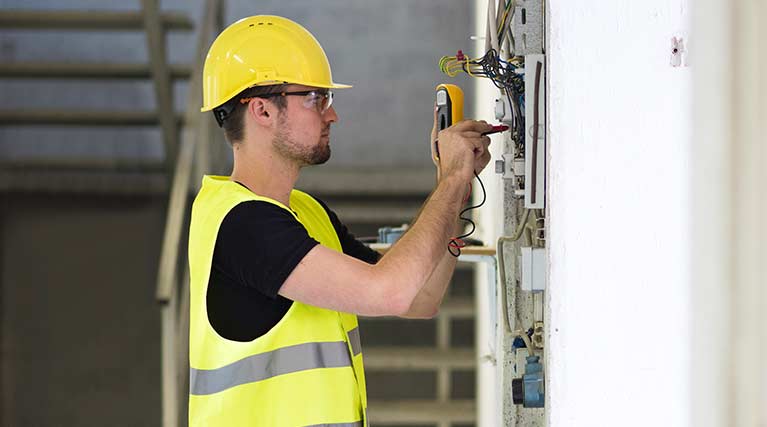 What Your Learners Will Study
Basic electrical symbols used in electrical schematic diagrams and wiring plans. Maintenance and repair of essential driveline components.
How to bend and install conduit, wiring, and cables in residential circuits.
Installing various types of control devices, including hand operated switches, automatic switches, magnetically controlled devices, and remote-control systems.
Installing various types of protective devices, including fuses, circuit breakers, and ground fault circuit interrupters.
Electrician Apprenticeship Curriculum

Est. base curriculum duration: 756 hours
Penn Foster's Residential and Light Commercial Electrician Apprenticeship training outline covers topics such as AC/DC principles, basic industrial math, capacitors and inductors, and more. Geared toward both new and veteran employees alike, the program is designed to cover basic skills before progressing to more complex topics. Online courses include:
Working Safely with Electricity
Print Reading Symbols and Abbreviations
Electrical Components - Operations and Maintenance
Electrical Wiring Practices
Show Full Curriculum
State Licensing Requirements
Penn Foster's configurable training outlines can be used to register your apprenticeship with the U.S. Department of Labor or your State Apprenticeship Agency. Our training consultants can work with you to build your apprenticeship program and help you seamlessly navigate the registration process. You can also find additional information and resources on how to set up apprenticeship programs through the U.S. Department of Labor Employment & Training Administration.
Our Partners
Penn Foster works with leading organizations to upskill and re-skill working learners
How it works
Our Proven Apprenticeship Model
High-quality, online skills training for your employees

Online Platform
Digital platform allows for studying any time, anywhere
Content is available via computer, mobile device, or tablet
24/7 access to online resource library and knowledge base
Scalable Delivery
Provide training for 1-1000+ workers across several locations
Technical skills studied online are consistent for each employee
Pre-apprenticeships available to build your talent pipelines
Configurable Training
Expert training consultants can tailor programs to meet your needs
Can align apprenticeships to state licensing, DOL or SAA requirements
Thousands of modular courses that train for in-demand occupations
Innovative Learning Experience
Programs include interactive simulations, videos, and demos
Varied learning techniques help cement application of concepts
Engaging technology promotes skill retention for on-the-job recall
$name
According to national averages from the Bureau of Labor Statistics, employment for veterinary technicians is expected to grow 16% over the next 10 years.* That is a much faster growth rate than almost all other occupations.
$name
Penn Foster's Veterinary Technician Degree Program is one of only a few programs with full accreditation from the American Veterinary Medical Association (AVMA), through their Committee on Veterinary Technician Education and Activities (CVTEA).