What Veterinary Health Companies Are Doing Right
Posted by Des Sinkevich on April 22, 2021
Traditionally, when we think about a local veterinary clinic, we're thinking about the small, privately-owned practice run by a local veterinarian. But the concept of the veterinary hospital has changed over the last decade due to the increase in corporate-owned hospitals and clinics. It's estimated that there were about 5,200
corporately owned clinics
across the United States at the end of 2019 - and that number is only expected to grow. The growth and widespread success of corporate veterinary companies like Banfield and Mission Veterinary Partners isn't just due to having access to a larger budget than smaller clinics; they offer a trusted standard of care that can work in a hospital in a rural town or a small clinic in a bustling city. Further, these big-name hospitals offer a variety of benefits to clients and employees that is also standardized. Private practices can take note of what corporate veterinary hospitals are doing well and implement changes at scale.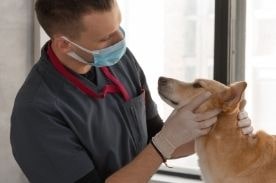 Creating a culture of care and wellness
Whether a clinic is privately owned by a single veterinarian or under the umbrella of a corporate name, the fundamental goal is the same – ensuring quality, compassionate care for clients and their pets. Corporate veterinary clinics take this culture of care to the next level by folding employee wellness into the day-to-day mix of what's needed to run a successful practice.
In an industry where employee burnout is a concern – many veterinary technicians, for example, end up
changing careers
within 5-7 years – due to long hours and compassion fatigue, finding ways to ameliorate the stress and offer wellness solutions is vital to keeping a passionate workforce.
These opportunities not only help employees, they improve the quality of care veterinary assistants, technicians, and veterinarians can offer clients.
Investing in the veterinary workforce
From veterinary technicians to veterinarians, the industry requires a willingness to keep learning, innovating, and improving. Continuing education ensures that veterinary healthcare teams can offer the best care to patients. Investing in learning and development also makes a positive impact on employee satisfaction and retention. More than merely battling turnover rates, offering effective training and upskilling can allow your veterinary workforce to reach their professional goals, creating opportunities for career advancement and more.

Through investment in employees, current team members can grow their skills and knowledge, and that growth trickles down into how they work and interact with patients and clients each day. It also creates a supportive environment that makes employees happy and enthusiastic about coming into work each day to do the job they love – helping animals.

"We've invested significant time and resources into developing an industry-first learning and development platform powered by content partnerships with some of the best minds in veterinary medicine," said Dr. Dan Markwalder, Vice President of Medical Operations at Mission Veterinary Partners. "We offer training on leadership, finance, crucial conversations, practice management, medical skills, and beyond. We've also recently launched our full-circle mentorship program to help our team members achieve their personal & professional goals. Whether you're an aspiring veterinary technician, practice manager, leader, or surgeon, we're here to help every MVP team member get there."


Making an impact in the communities they serve
Corporate veterinary hospitals also have a unique opportunity to serve multiple communities across the country, increasing their social impact initiative successes. On the local level, it's important to help each individual community they serve. This has allowed corporate veterinary clinics to connect with their community while making a difference in something they're passionate about: the well-being of pets and animals. Banfield has been so laser-focused on this commitment that they created a charitable arm of the business through the Banfield Foundation.

"As the charitable arm of Banfield Pet Hospital, we work with Banfield Associates, partners and the larger animal welfare community to ensure that the needs of vulnerable pets and pet owners are met by providing support through thought leadership, funding of community work and direct care programs. Banfield Pet Hospital invested in the creation of the foundation in 2016 because it is deeply committed to using its size and scale for good and finding unique and effective ways to bring to life its purpose: A BETTER WORLD FOR PETS. In partnership with Banfield's CSR efforts, the foundation is an extension of its commitment to enabling access to and affordability of care" said Kim Van Syoc, Executive Director of the foundation.

"At the core of the Banfield Foundation" she continued, "is the belief that all pets deserve access to veterinary care. Working with nonprofits and shelter partners daily, both within Banfield and the foundation, we see and understand the societal issues that create barriers to pet ownership, access to veterinary care and overall community wellbeing. And while disasters such as COVID-19 exacerbate challenges faced by shelters, it does not change their ongoing needs as they work tirelessly to serve local communities. Shelters are the center of response when it comes to pet food, care and resources, not only for shelter pets, but for owned pets whose owner is struggling financially to care for their pet and keep them in a loving home – we exist to support and expand shelter efforts."


How privately-owned clinics can implement these practices at scale
While corporate veterinary clinics and hospitals have more resources that can allow them to focus on the well-being of employees and the communities they serve, smaller, privately-owned practices can do much of the same work at scale. Empowering employees to advance their knowledge in the field, offering resources to help them combat compassion fatigue and burnout, and taking the steps to make a difference in your community sounds like a heavy lift – but the return on investment of doing so is beyond worth it.
For smaller practices, try these three things:
Smaller practices can make a difference through local volunteering, offer low-cost clinics for low-income pet owners, or even just bringing attention to fundraisers for local animal shelters.
You can still help your veterinary assistants and veterinary technicians navigate compassion fatigue and burnout. Whether this is offering your own experience as an example or just assuring your workers that you're willing to work with them when things get tough, you can create a culture of care and compassion that allows your team to feel and be their best.
Encourage further training and education and offer career advance opportunities for workers that meet the requirements. Through an affordable program from Penn Foster's Veterinary Academy, you can offer viable solutions for training and upskilling, even encouraging employees to pursue training on their own, offering a space to practice what they learn, and giving them the time to study can make a difference. Further, offering these opportunities doesn't help just your employees. Through internal career advancement and education, you're creating a strong, knowledge, and loyal team of veterinary healthcare professionals that will be an asset to your business.
Whether you're looking to grow your client list, improve retention, or just ensure your workers are the best at what they do, offering online training programs could be the solution that fits your needs. Take the next step to support your employees and clients through flexible training solutions.
Contact a Penn Foster training expert
for more information today!