Top Characteristics of Effective Residential Electrician Training
Posted by Mara Hyman on November 18, 2021
In a field experiencing as much growth as the electrical industry, what steps are you taking for your business to stay ahead? A crucial marker of success is whether your employees can meet today's demands as well as prepare for future trends. An effective training program can help your new and existing employees master the core skills necessary to thrive on- the- job and address the needs of your business. Outlined below are the traits that employers should seek when determining whether a training program can provide value for their residential electricians and the business at large.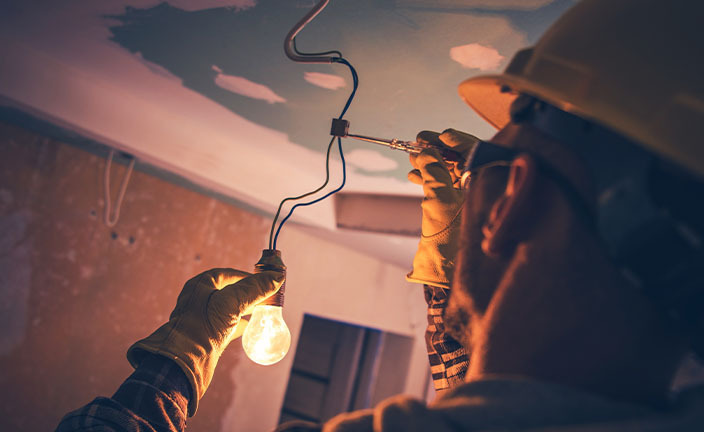 1. Staying ahead of industry trends
Though the industry is constantly changing, what will always remain valuable is an understanding of the foundational skills required day-to-day as a residential electrician. For example, the ability to read blueprints or troubleshoot issues will continue to be vital.
A strong training program needs to combine teaching basic skills with the industry's modern needs. As 
alternative power generation
 like solar and wind continue to increase, for instance, electricians will need to understand how to install and maintain those power sources in residential areas.
Penn Foster's Residential Electrician Career Diploma program is committed to staying up-to-date on industry trends to prepare today's learners for tomorrow's jobs. The program maintains relevancy through regular examination and updates to improve the learner experience, ensuring your workers master the essential skills and knowledge needed to be an asset to your business.
2. Interactive work that mirrors tasks relevant to the job
When considering the right training program for your staff, one that is online but provides real-world simulations for learners is most beneficial in today's modern workplace. A truly effective residential electrician program will also ensure that learners have not only mastered the basics of the role such as understanding the National Electrical Code, but will also include virtual simulations that provide them with the opportunity to demonstrate what they've learned.
Penn Foster's online Electrician program curriculum
features engaging and interactive demos and animations that feel realistic and relevant. This will allow your workers to effectively and efficiently familiarize themselves with technical aspects of the role so that they can quickly provide value and support your business' growth.
3. Flexible and supportive learning environment
There will always be a demand for residential electricians, but with over 
700k jobs and 9% job growth
, there's an immediate need for employers to find qualified and strong talent. In order to secure that strong talent, it's crucial to make sure that workers can quickly and flexibly retain skills to hit the ground running. When a program prioritizes their learning model and embraces flexibility, workers can be confident in the skills they've gained and their ability to recall their knowledge on-the-job.
Penn Foster's career diploma program provides ample resources to guide working learners through their studies and encourage their growth. Through wraparound learner support, access to instructors and coaches, and a dynamic student community, learners are equipped to progress through the program on their own time, outside of working hours, so that you can focus on the growth of your business.
Help upskill your residential electricians with Penn Foster