Residential Electrician
Career Diploma
Accredited
Residential Electrician Training For Your Employees
Grow your business and create a career path for dedicated employees with Penn Foster's online Residential Electrician Training Program. Through coursework that can be completed around their schedule, workers can gain the skills and knowledge needed to be successful on the job while developing an understanding of the National Electrical Code.
Prepares workers for entry-level electrician roles.
The online training program includes a web-based virtual simulation that allows learners to complete a number of wiring scenarios, working with real-world, full-home wiring and troubleshooting situations.
Includes wraparound learner support and access to instructors and coaches, ensuring your learners or employees successfully progress through training.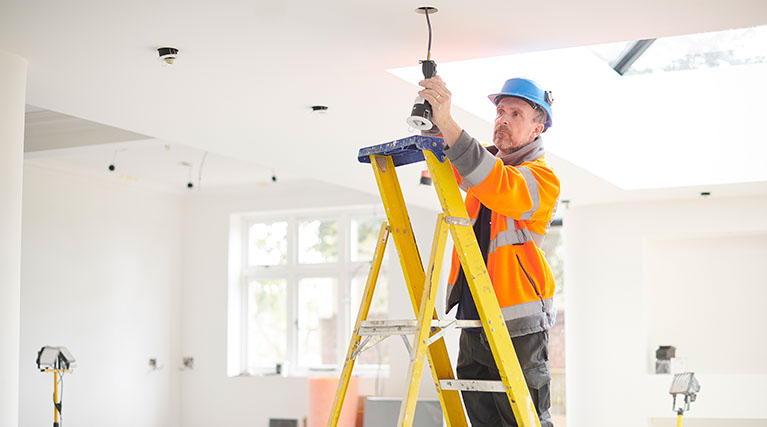 What Your Learners Will Study
How to interpret basic electrical blueprints and technical drawings to follow the required specifications of electrical projects.
How to select and install various types of conductors, wires, and cables.
How to identify various types of control devices, including hand-operated switches, automatic switches, magnetically controlled devices, and remote-control systems.
The National Electrical Code, ensuring they understand and comply with a variety of regulations when installing, inspecting, and maintaining commercial and residential electrical systems.
Electrician Training Curriculum
48.9 continuing education units (CEUs)
10 courses
24 exams
1 submitted project
Aligned with the National Electrical Code and industry standards, our Residential Electrician Training Program covers essential skills and knowledge to ensure your workers are an asset to your business. Courses include:
Reading Electrical Drawings, Schematics, and Blueprints
Working with Residential and Small Commercial Electrical Systems
The National Electrical Code®
Troubleshooting and Electrical Contracting
Show Full Curriculum
Our Partners
As the trusted training provider for leading employers, education providers, and job training organizations, Penn Foster designs and delivers digital and blended learning programs that attract, upskill, and retain workers in America's fastest-growing fields and professions.
How it works
Our Proven Training Model
High-quality, online skills training for your employees.

Online Delivery
Digital platform allows for studying any time, anywhere
Content is available via computer, mobile device, or tablet
24/7 access to online resource library and knowledge base
Engaging Content
Programs include simulations, videos, and virtual demos
Varied learning methods help cement application of concepts
Real-time feedback enables efficient mastery of material
Robust Support
Self-service tools and unlimited multi-channel support
Live and recorded webinars hosted by our faculty
Access to peer-to-peer community of learners
Real World Credentials
Training programs focus on today's in-demand job skills
Content developed by professional leaders in the field
Courses align to industry certifications and accreditation
$name
According to national averages from the Bureau of Labor Statistics, employment for veterinary technicians is expected to grow 16% over the next 10 years.* That is a much faster growth rate than almost all other occupations.
$name
Penn Foster's Veterinary Technician Degree Program is one of only a few programs with full accreditation from the American Veterinary Medical Association (AVMA), through their Committee on Veterinary Technician Education and Activities (CVTEA).