Diesel Engine Mechanic/Heavy Duty Equipment (Truck) Mechanic
Apprenticeship
Online Diesel Mechanic Apprenticeship Program
Through Penn Foster's online Related Technical Instruction (RTI) for Diesel Mechanic/Heavy Duty Equipment apprenticeship and advanced training programs, your workers will gain the expertise and skills needed to prepare them for on-the-job success. Employees will learn extensive trade knowledge, including the maintenance and repair of essential driveline components, diesel engine troubleshooting and two- and four-cycle engine rebuilding.


Penn Foster's online advanced training programs are configurable and can be designed to meet state or regional licensure requirements.
Employees will expand their knowledge in service and repair requirements for top manufacturers.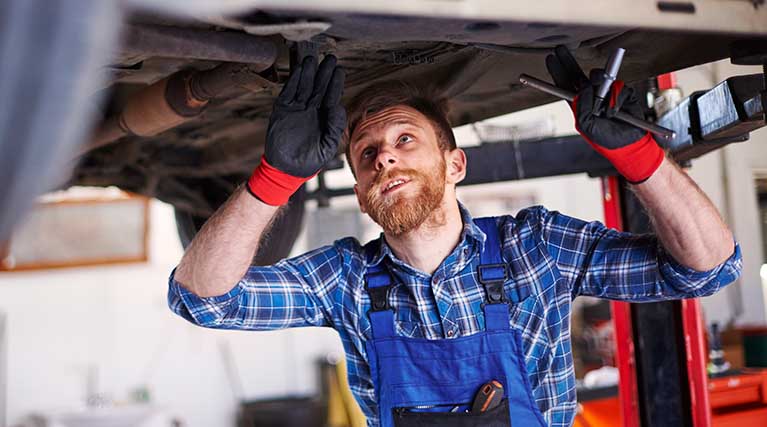 What Your Learners Will Study:
Maintenance and repair of essential driveline components.
Diesel engine troubleshooting and two- and four-cycle engine rebuilding.
The function of cooling, air intake, and exhaust systems for diesel engines.
Using computerized management systems to diagnose and troubleshoot engine malfunctions.
Diesel Mechanic Training Curriculum

Est. base curriculum duration: 1455 hours
Designed with job-readiness in mind, Penn Foster's Diesel Mechanic/Heavy Equipment Apprenticeship Related Technical Instruction (RTI) complements on-the-job training to ensure your mechanics become experts in the field. Our professional development program can be configured to meet your organization's specific training needs. Online course options include:
Maintaining Diesel Engines
Drivelines and Transmissions
Cummins, Mack, and Detroit Diesel Engine Mechanics
Power Shift Transmission Systems Used in Heavy Duty Equipment
Show Full Curriculum
State Licensing
Penn Foster's configurable training outlines can be used to register your apprenticeship with the U.S. Department of Labor or your State Apprenticeship Agency. Our training consultants can work with you to build your apprenticeship program and help you seamlessly navigate the registration process. You can also find additional information and resources on how to set up apprenticeship programs through the U.S. Department of Labor Employment & Training Administration.
Our Partners
As the trusted training provider for leading employers, education providers, and job training organizations, Penn Foster designs and delivers digital and blended learning programs that attract, upskill, and retain workers in America's fastest-growing fields and professions.
How it works
Our Proven Training Model
High-quality, online skills training for your employees
Online Platform
Digital learning platform allows for learning flexibility
Online content is available via computer, mobile device, or tablet
24/7 access to online resource library and robust knowledge base
Configurable Training
Expert training consultants can tailor programs to meet your needs
Can align apprenticeships to state licensing, DOL or SAA requirements
Thousands of modular courses that train for in-demand occupations
Uniform, Scalable Delivery
Provide training for 1-1,000+ workers across several locations



Technical skills studied online are consistent for each employee
Pre-apprenticeships available to build your talent pipelines
Innovative Learning Experience
Programs include interactive simulations, videos, and demos
Varied learning techniques help cement application of concepts
Engaging technology promotes skill retention for on-the-job recall
$name
According to national averages from the Bureau of Labor Statistics, employment for veterinary technicians is expected to grow 16% over the next 10 years.* That is a much faster growth rate than almost all other occupations.
$name
Penn Foster's Veterinary Technician Degree Program is one of only a few programs with full accreditation from the American Veterinary Medical Association (AVMA), through their Committee on Veterinary Technician Education and Activities (CVTEA).