It Takes a Veterinary Health Care Team
Posted by Emma Rose Gallimore on August 7, 2019
As a veterinary practice owner, manager, or executive, you want to provide the best care possible for your clients and patients. But you can't do it alone. Providing quality care in the modern veterinary health care market requires a whole team of qualified staff. The American Veterinary Medical Association has been promoting the concept of a veterinary health care team for years, and with good reason.
A collaborative team allows each member to do the work they're trained and qualified for. When individuals focus on what they do best, other members of the team are free to do the same. Everyone works more efficiently and effectively. The result: your hospital can serve more patients without compromising quality of care.
An effective veterinary health care team includes five distinct roles. Each is vital to the overall success of the hospital.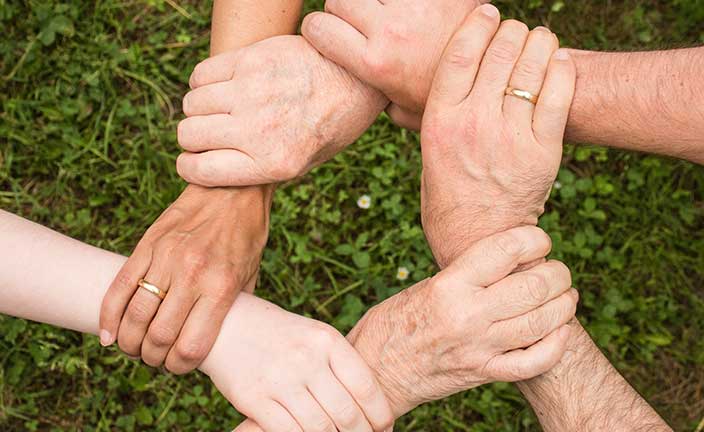 Veterinarian
There are many elements of veterinary care that only a veterinarian is qualified to perform. The job of the veterinarian is to diagnose and treat diseases or conditions affecting animals.
Becoming a veterinarian requires years of study, a Ph.D. in Veterinary Medicine, and state licensure. All of this study and credentialing prepares the veterinarian to diagnose and treat, but others on the team bring specialized skills that allow the veterinarian to share the burden of care.
Veterinary Practice Manager
Adding a veterinary practice manager or veterinary hospital manager to the team can improve the efficiency of both the team and the practice. The veterinary practice manager rarely provides direct patient care. Instead, they manage the systems and processes that support the health of the business. All business management functions fall under the purview of the veterinary practice manager. This might include budgeting, accounting, marketing, hiring, supervising, or process creation and improvement.
Although there is no legal requirement, the Veterinary Hospital Managers Association does offer a certification exam. Prepare a member of your team for the highest level of certification in their field with Penn Foster's Veterinary Practice Management undergraduate certificate program. This 19-credit hour online curriculum fulfills the college semester hour requirement for the Certified Veterinary Practice Manager exam.
Credentialed Veterinary Technician
The backbone of the veterinary health care team is the credentialed veterinary technician. These professionals support the veterinarian by assisting in surgery, performing laboratory procedures, treating and nursing patients, educating clients, and performing a host of medical and non-medical services. Your team should include at least one credentialed veterinary technician, but you may have several. You can even bring in credentialed veterinary technicians with specialties in internal medicine, dentistry, emergency and critical care, or other vital areas of your practice.
While some states do not yet require certification for veterinary technicians, a nationally recognized credential is likely to be introduced soon. And with good reason. The credentialing process ensures that veterinary technicians have the training to meet rigorous quality standards. Research has shown that a credentialed veterinary technician can make a huge difference in your hospital or practice. Adding a credentialed veterinary technician boosts the typical veterinary practice's gross income by more than $93,000 per year according to a study by the AVMA.
You can hire credentialed veterinary technicians or help promising members of your team to earn that credential. The first step is an AVMA-CVTEA accredited veterinary technician training program to prepare veterinary technicians for the VTNE exam.
Veterinary Assistant
Veterinary assistants work directly with animals to support veterinarians and veterinary technicians. Assistants may keep kennels clean, exercise and feed animals, and take the burden of clerical duties away from veterinarians and credentialed veterinary technicians. The number of veterinary assistants you need depends on the size of your practice.
Penn Foster's Veterinary Assistant program is one of only three programs approved by the National Association of Veterinary Technicians in America. Giving your veterinary assistants access to this online training program helps them gain essential skills without taking time away from work.
Experienced veterinary assistants may decide to take the next step in credentialing and become credentialed veterinary technicians or veterinary practice managers.
Receptionist
The receptionist is the face of your veterinary practice or hospital. Receptionists greet patients, set appoints, and answer the phone. This customer-focused role often determines how clients feel about their experience at your clinic or hospital. Receptionists may eventually train to transition into other roles within the health care team. Their broad understanding of front-end operations makes them ideal candidates for veterinary practice manager or veterinary assistant roles.
Turning a group into a team
Simply having people with these job titles does not ensure a successful veterinary health care team. Each member of the team must know their role and collaborate with coworkers to meet the needs of patients and clients. Here are a few ways to build a strong veterinary health care team:
Hire for attitude, train for skills. Skills can be taught, but attitude is fundamental to the person. Hire team members who are eager to contribute and grow. You can always help them earn credentials.
Look for compatibility. A working interview can help you gauge a new hire's attitude and ability to work with the team. Give new candidates a few hours to meet with your team and see how everyone works together.
Offer training and development programs for all members of the team. Training doesn't just upskill employees, it keeps them engaged and improves retention.
Create career pathways. Help every member see how the team fits together. When they understand what they're doing now can lead to new opportunities, team members are more satisfied with their jobs and stay with the practice longer.
Building a cohesive veterinary health care team takes some work, but Penn Foster is here to help. With AVMA-CVTEA programs for veterinary technicians, veterinary assistants, and veterinary practice managers we have the training programs you need to build the team your patients deserve.