Almost 70,000 Learners More Qualified for Their Next Best Careers After Penn Foster
Posted by Kate Coble on December 12, 2019
Spotify's Wrapped has been shared across Instagram and social platforms like wildfire, sending premium users into a music-fueled trip down memory lane, reliving their band obsessions over the last year--and decade. This sent us down our own rabbit hole, slightly less musical but equally as capable of inspiring an emotional response to our learner's ability to prepare for their next best career. Here's a few of our favorite moments of 2019!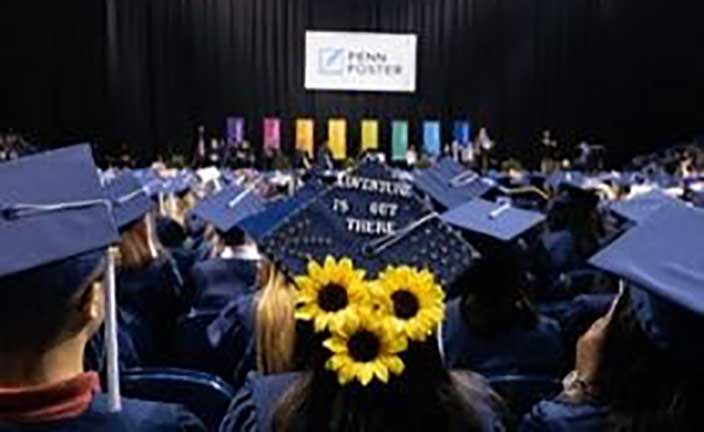 More completions than can fit in Gillette Stadium
Each year, we're astounded by the number of students who achieve their goals through Penn Foster - and 2019 will be no different. In a brick-and-mortar organization, grasping the quantity of graduates churning through your halls is easy; you can see it. But at Penn Foster, truly grasping the value of almost 70,000 new graduates of high school, career school, and college entering the workforce can be hard to imagine. To put it into context, if all our nation-wide graduating class were to assemble, we'd fill Gillette Stadium!
We've formed new partnerships to bring training directly to employees
The workplace is ever changing, unemployment rates are the lowest they've been in 30 years, and employers are struggling to find and retain skilled talent to fill their workforce across all industries. Each partnership we add brings customized, career-necessary skills to learners who are more confident, prepared, and career-ready. In 2019, we added 57 new partnerships--that's more than in any year in our history and proves that everyone from the C-suite to front-line employers value training to bridge the skills divide.
New training programs to alleviate the worsening healthcare skills gap
As baby boomers start to age into greater need for preventative healthcare, the demand for trained medical professionals is outpacing the number of skilled workers that exist. On top of that, high turn-over in the 24/7 industry is exhausting healthcare teams across the nation. More than ever, our proven, career-focused training programs are necessary to fill talent pipelines and improve the quality of care hospitals and medical facilities can provide. Walmart's Live Better U brings healthcare training to it's 1.5 billion associates for just a dollar a day, partnering with Penn Foster and Guild Education to train Pharmacy Technicians and Opticians across the nation.
Graduates are improving economic mobility
Our mission is to empower learners to prepare for their next best careers. But the outcome of better employability isn't limited to one thing, it's the culmination of better hours, greater responsibilities, more confidence, and, ultimately, the opportunity to increase their economic mobility. Research shows that education at each level unlocks the opportunity to earn a better wage and improve your employability.
Guild Education hits 1,000 high school graduate milestone
Partnering with organizations across various industries is a big part of what we do but partnering with the right organizations is how we do it well. Guild Education is transforming employee educational benefits in partnership with Penn Foster to help prepare the workforce of tomorrow and together we've hit a major milestone; 1,000 high school graduates! We're proud that employers like Walmart and Disney have chosen Penn Foster's trusted online training programs to upskill their workers and create pathways to better careers with us. Read more about this fantastic milestone here.
VTNE pass rate is at a 3-year high
While learners can sit for the exam as many times as they'd like, our graduates pride themselves on passing the first time around. We are proud to report that our learners continue to pass the national exam above industry standards but also to beat our Penn Foster benchmarks. Congratulations to all our Veterinary Tech graduates who are on to their next best careers!
The impact of a Penn Foster education has helped our learners to launch, accelerate, and thrive in their careers and we're tremendously proud to empower them to do so. Our in-person graduation had over 700 graduates and 3,000 of their friends and family celebrate this momentous occasion with us. Take a look at our wrap up video here! We can't wait to see what 2020 brings.