Building Foundational Skills for Middle-Skilled Workers
Posted by Emma Rose Gallimore on December 4, 2019
As middle skills employers investigate the full effect of the skills gap on their businesses, many are discovering that human skills, leadership abilities and other baseline competencies aren't as prevalent as they once thought. They need to be taught.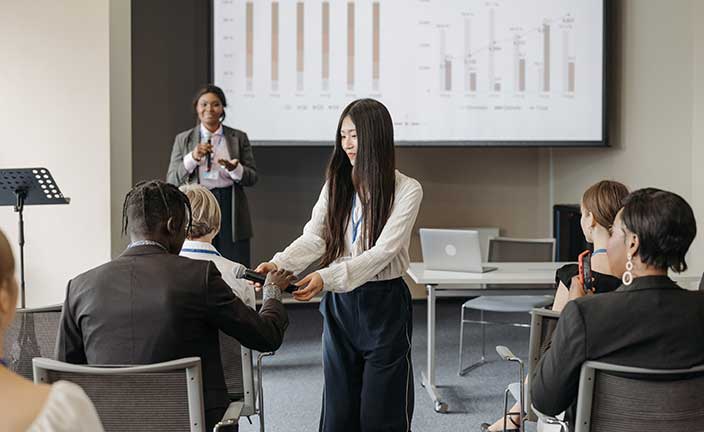 What are foundational skills?
Foundational skills are those competencies that you expect every employee to have regardless of industry or experience level. They might include communication, problem solving or integrity. We often assume that employees have these skills without actually checking to make sure. And much like the foundation of a house, you don't think much about them when they're strong, but you certainly notice when they start to crumble.
While the need for hard skills fluctuates in response to technology, foundational competencies retain their value over the long term. No matter how technology evolves, people will always need to communicate with each other. Even the most advanced automation techniques don't completely remove the need for human creativity and complex problem solving. There's just no substitute for well-trained workers. Foundational skills are essential for all staff members at all levels.
Your best employees don't just have technical skills specialized for your industry. Their abilities are grounded in strong foundational skills. They know how to work through a challenge, communicate their needs and expectations, and collaborate with others to achieve goals.
Meanwhile, you have a second set of employees who never seem quite ready for promotion, or who may do well in the day-to-day but struggle when faced with a new or unexpected challenge. These employees have the same technical skills as their colleagues, but they don't have the foundation of basic business competencies to support them.
When every employee has the right foundational skills, your team and your talent pipeline are stronger. Not only does the employee become more effective in their current job, they also quickly become promotion ready. When you help your employees build soft skills, you give them the tools to thrive at every level of your organization. But first you have to find the right training and development resources to help them succeed.
Tools for building essential skills.
It's easy to talk about how foundational skills could theoretically help employees. It's another thing entirely to see it happening in the life of a working learner. DXL employee Marckus Perez learned so much from the Penn Foster Career Readiness Bootcamp that he's become an advocate for the program at his store location.
Penn Foster's Career Readiness Bootcamp is a nine-module, for-credit course built on the U.S. Department of Labor's CareerOnestop Competency Models. These clusters of competencies define the skills, knowledge and abilities, an employee needs to succeed in their industry. The bootcamp is offered directly to students through employer partners who want to strengthen their talent pipelines and set all employees up for success.
Marckus was studying Forestry and Wildlife Conservation at Penn Foster while working full time. He'd already been passed over for promotion at DXL. At the time, Marckus thought he had the skills he needed to be a good manager, so not being promoted demoralized him. He tried the Career Readiness Bootcamp at the recommendation of a student liaison. The experience opened his eyes. Marckus quickly realized he had no idea what he didn't know. In each module, he discovered opportunities to improve his capabilities. His employer wanted to promote a leader and the bootcamp gave Marckus the skills to become that leader.
He even brought what he'd learned back to his coworkers. Marckus set up informal training sessions to share his new knowledge. In the process, he proved that he could be the leader his employer was looking for. Within a month, he was offered the position of assistant manager at his store.
Making foundational skills training work for you.
Your business and your employees are unique, but every employee needs a strong foundation to succeed at work. Select training programs and courses that address the essential skills for job success.
Ideally, these programs should be available online and via mobile devices, so employees can work on improvement when and where it's convenient for them. They should include the support of counselors and peers who can help keep employees on track and overcome obstacles.
One difficulty is that, like Marckus, employees may not even realize their skills are weak. Human skills are less tangible than technical skills and weaknesses aren't always easy to spot. You can quickly tell if a veterinary technician knows how to process a new prescription. It's a lot harder to know if she's communicating clearly with pet owners.
Simply offering opportunities may not be enough. You might need to connect the dots between pursuing this training and getting a promotion. Offering tangible incentives can help encourage employees to use the resources you've made available.
For help choosing the right resources for your middle skills employees, contact a Penn Foster training expert.