Healthcare is A Service Industry: Train Accordingly
Posted by Emma Rose Gallimore on December 2, 2019
Make no mistake, healthcare is a service industry. In most cases, patients and their families are facing difficult and emotional challenges. They're away from home, ill, and feeling vulnerable. What might seem like a small irritation under normal circumstances can escalate to a catastrophic event under these conditions. Which is why training employees to interact with patients, families, and visitors is critically important.
Providing compassionate care goes way beyond bedside manner. It extends to the social, emotional and psychological needs of patients, their families, and anyone else who sets foot inside your hospital. To meet the needs of the whole patient, healthcare workers need strong social-emotional skills.
Employees, from doctors to dietary aides to reception staff, don't develop exceptional customer service skills on their own. At least, most don't. Providing high quality service takes training. Geisinger, a major health network in Pennsylvania and New Jersey, approached this challenge by partnering with Penn Foster.
For the biggest return on investment, they focused on an area of the hospital where patients and families were at their most sensitive, a place where their most basic needs were being met: food service. Sixty Geisinger food service employees graduated from the Career Readiness Bootcamp in October 2019. The skills they learned affect every patient and the success of the hospital as a whole.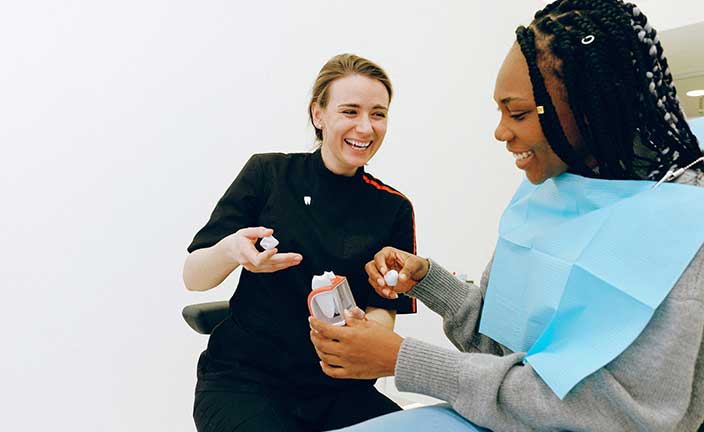 Patient-focused from day one
Geisinger's focus on training starts on the employee's first day. All potential hires take a talent assessment to help managers gauge how well-aligned candidates are with the patient-first mentality. They call it The Caring Model.
Kimberly Eiden, HR Specialist at Geisinger, says this patient-first mentality carries through to every interaction between patients and staff.
"Geisinger trains every member of their team from food services staff to nurses and doctors to ask, "is there anything else I can do for you?" That means they don't just do their intended job and walk away, they provide care or find someone who is capable of providing that level of care."
This full-service approach has become even more important over the last few decades. Healthcare reforms, restructuring, and tight budgets have forced healthcare leaders to closely examine their costs. At the same time, the aging population, increased incidents of some chronic diseases, and the rapid pace of change are putting significant stress on the healthcare system. Serving patients well in this environment takes laser focus on mission and service quality.
Bruce Thomas, VP Guest Services, says training helps Geisinger to meet these challenges while upholding their high standard of patient care.
"By taking the time to properly train our employees, we are investing in the overall health and longevity of our operation," Thomas said. "It's worth taking the time to train employees thoroughly, because it's a sure-fire way to guarantee that we are delivering the best experience possible for our guests."
The food service department in particular, is a high impact place to focus training efforts. Many food service workers start in entry-level positions. Investing time and effort into training these employees helps Geisinger quickly identify those who may be a good fit for high paying roles. With potential career pathways identified, Geisinger can start employee development from day one.
Closing the talent gap
Not only does a focus on training and development contribute to overall visitor satisfaction, it also supports talent sustainability across the organization.
"Employees are more likely to remain on staff long-term when you make the time investment to train them," Thomas said. "When employees feel valued, they are happier and will do better work and take more pride in what they do."
Penn Foster CEO, Frank Britt summarized the opportunity. "If you look at the labor of a typical hospital you have three tiers, white coat, middle skills, or non-medical essential jobs. There's a substantial [population] that are low-skill. Those people are a robust candidate pool, mine them, invest in them."
Companies like Geisinger have already solved for return on investment in the training-recruitment equation. The result is clear, when you choose the right training partner, ROI for training far outweighs anything recruitment can achieve. To excel despite tight budgets, healthcare organizations should put their money where it will do the most good, in training.