Partner with a Training Provider to Build a Healthcare Talent Pipeline
Posted by Emma Rose Gallimore on December 11, 2019
The demand for healthcare employees has been growing for years with no signs of slowing down. To fill open positions and plan for the future, smart healthcare providers are building talent pipelines that will help them meet their staffing needs, which will be critical as the organization grows or as specialized services need to be offered.
What do talent pipelines for healthcare look like? Traditionally, healthcare providers would post a job, interview, and hire new employees, which may take time and may not attract the right candidates. To better address this, many providers are beginning to train and hire within their organization. This might include training non-clinical employees for clinical roles or attracting and recruiting entry level staff with the promise of training benefits and promotion. The goal is to build a talent pool that the clinic or hospital can quickly draw from when new positions open up. At the same time, these well-trained employees become more engaged, providing better patient care. They are also more likely to stay in their position or with the organization, meaning that there are fewer open positions that need to be filled and less time and energy spent on hiring.
Training employees takes time and resources, two things that are in short supply in the fast-growing world of healthcare. That's why the smartest healthcare providers are partnering with training providers to create sustainable talent pipelines.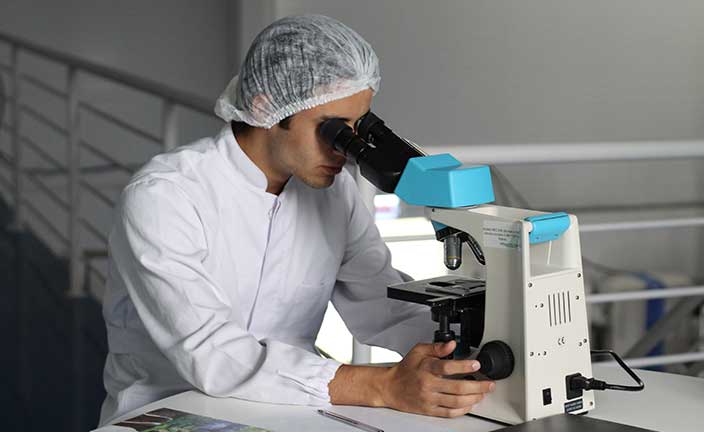 Healthcare is in demand
As the population ages and medical technology continues to advance, the healthcare industry must grow and adapt to meet this increasing demand. This healthcare boom has been happening for years and shows no signs of stopping anytime soon. The Bureau of Labor Statistics expects the healthcare industry to grow 14% by 2028, adding 1.9 million new jobs.
At the same time, many industries, particularly in healthcare, are facing a skills gap and staffing shortage. Unemployment hovers near record lows and there are simply fewer candidates fill current positions. Middle-skills jobs - those requiring training after high school but not necessarily a college degree - have been among the hardest hit by the skills gap. Many healthcare professions, including pharmacy technicians, certified nursing assistants, medical billers and coders, and medical assistants, fall into this category.
Ensuring that your organization has enough middle-skilled employees to fill the many healthcare roles now and into the future requires long-term thinking and planning. You need more than a training program. You need a talent pipeline.
A talent pipeline is a ready supply of candidates who are qualified to fill open positions. To create one, you need a pool of employees and applicants who have or are building the requisite skills for in-demand jobs.
Why you need a talent pipeline
For the safety of patients and healthcare providers alike, the healthcare industry is highly regulated with a variety of state, federal, and industry laws and requirements. If a receptionist wants to become a certified nursing assistant, for example, she must take courses, complete hands-on training, and pass certification exams. It's a time and labor intensive process. One that she may not be able to undertake alone.
The working learner faces several challenges including the high cost of education, limited time, and competing priorities. Training courses and certification and licensing exams costs money. She can't afford to stop working while she studies. But, in order to upskill or to advance, she has to find a way to balance the competing priorities of work, study, and home life. Most working learners can't do it alone.
When your healthcare organization connects your employees with a training partner, you reduce these barriers to upskilling. Further, you strengthen your overall talent pool and show each individual employee that they are valued within your organization and that you are invested in them as long-term employees.
Giving employees the tools to pursue skills, education, and credentials helps you keep good employees longer and makes them more invested in providing your patients the best care.
Partnership pays
Creating a close partnership with a training provider brings many benefits to you, the provider, and your future employees. When you build a relationship with a training provider, you can provide input into the training course and curriculum to ensure the content aligns with your staffing needs. Current employees can be trained not only to meet state and federal regulatory standards, but also to fit the needs of your healthcare organization. As a result, you will reap the benefits without spending the time and resources required to create and manage the program yourself.
You can provide a hands-on training ground for students who will someday become your employees. Not only can you get to know employees before you hire them, you also get employees who are comfortable with your team and invested in the success of your organization.
Your training provider can also support your current employees through upskilling opportunities and providing flexible learning solutions. To avoid the loss of any productivity, your employees can continue to work in their current positions while also preparing for their next opportunity within your organization.
What to look for in a training provider
It's important to choose a training provider that can help you build a robust and agile healthcare talent pipeline. Look for a training provider that can offer:
flexible online courses that support working learners


access to academic and professional support and a community of fellow learners


accredited programs that prepare students for licensing and credentialing exams


the ability to track learner progress throughout the program to support completion.


Remember, you're not just looking for a quick solution to your current staffing concerns. You're building a long-term relationship with employees and a partnership with your training provider.
Penn Foster offers a continuum of skills training and educational programs that include student support and services. Whether your healthcare team needs condensed skills playlists or multi-year degree programs and career diplomas, our skills-based portfolio of education and training solutions will help you build a robust talent pipeline.