5 Ways You Can Retain Employees You Upskill
Posted by Penn Foster on February 6, 2019
Imagine it's the start of the new year and you're looking for ways to tighten up the budget and improve efficiency. You find yourself considering employee training. How can you make it worth the time and effort? How can you determine what you will get out of it?
You might think training your employees too well is just preparing them for a new job somewhere else. It's an understandable concern. The last thing you want to do is pour all those resources into them only to have them leave in a year or two.
But consider the alternative: you have a roster of employees who have only the minimum credentials to do the job. They're not growing or developing. None of them are ready for promotion, nor will they be anytime soon. You're always on the lookout for new people to hire into the leadership roles your employees can't fill, yet when they ask about things like opportunity for advancement or career growth, you don't have anything to offer.
In that case, it won't be long before your employees start leaving anyway. In exit interviews when you ask them why they're leaving, they'll all say some variation of the same thing: I'm looking for a chance to grow.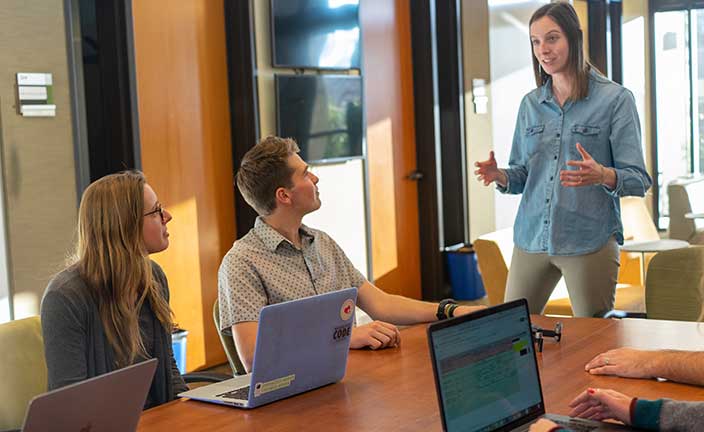 Employees want growth opportunities
Employees want to grow and develop. A staggering 82% believe lifelong learning is important. Yet there is a disconnect between what employees want and what many employers are offering. Randstad US has found that 67% of employees feel they need more training to stay up-to-date in their jobs, yet 40% say their employers are doing nothing to help them.
In a 2017 Skill Gap Report, 89% of workers said that training is important to their long-term career success. They named five specific areas where they need to build skills in order to advance their careers.
Technology - 43%
Leadership and Management - 30%
Productivity - 26%
Interpersonal Work Relations - 24%
General Soft Skills - 22%
While all of these skills will certainly be useful if an employee goes looking for a new job, they will also help employees thrive inside your business. In many cases, employees aren't learning so they can leave, they're learning so they can feel more qualified and confident as they perform the roles they already have.
Supporting employee development through training creates a supportive work environment full of happy employees. That means better bottom lines, stronger innovation, and increased performance across all areas of the business.
How to retain workers
Retaining workers is a challenge in many industries. According to LinkedIn, businesses in software and retail see the highest turnover rates at 13% or higher. Meanwhile media, professional services, and what might be termed public service ( e.g. government, education, and nonprofits) see turnover rates in the 11-11.4% range. Since a worker who makes around $45,000 a year averages costs $15,000 per employee to replace, businesses should be motivated to keep the employees they have.
Keeping employees happy doesn't require heroic measures or zany perks. All you need to do is show employees a way forward, recognize their value, and give them the tools for success. Here are five ways you can retain the workers you train.
1. Chart a clear path of advancement
Gartner has found that high-potential employees, those who have the ability and desire to engage with the company and become a senior leader, are actively looking for growth opportunities. These employees are 15% more likely to leave if they can't see advancement opportunities on the horizon.
Keep your high-potential employees happy by showing them a clear career path. Advancement doesn't even have to mean promotion. Sometimes a lateral move within the business can serve as a new challenge to keep the employee engaged. Meanwhile, your business gets the benefit of someone who already understands the business, but still looks at the position with fresh eyes. Build a robust workforce development program and employees will be happy to stay.
2. Show appreciation
Everyone likes to feel valued. Your employees are no exception. Show them that you appreciate the work they do. This is probably a lot easier and less expensive than you think. When surveyed, more than 45% of employees said words of affirmation were their most desired way of being appreciated. That means simply telling someone they did a good job can go a long way toward keeping employees happy.
Interestingly, employees rated tangible rewards as the least important way to feel appreciated. So spending money on personalized pens or tee-shirts with your company logo may not be worth it in the end. Put that money into training instead and remember to encourage employees regularly.
3. Recognize achievement
When you show appreciation, you tell employees you value their everyday contributions. When you recognize achievement, you show them you value their hard work toward a particular goal. Go out of your way to recognize an employee who surpasses production goals, earns a credential, or even achieves a personal milestone. Again, sincere words go a long way here, but a raise, bonus, or special perk won't be rejected either.
4. Manage your managers
When employees think about their happiness at work, one of their primary concerns is how well they're led and managed. Research from Culture Amp found that 12% of workers chose to leave an organization because of management but 28% left because of poor overall leadership. As a business leader, it is your responsibility to make sure that the culture of the organization is a positive one.
5. Provide high-value training
Employees don't just want more training, they want to actually learn something. If the training you offer is boring, irrelevant, or disruptive to their work, employees will likely tune out. The secret to providing training that retains employees is providing high-value training they can access on their terms.
Training workers is well worth the time, as you long as you have a strategy in place to retain them once they've been trained.Opportunities to advance, credit where credit is due, and good leadership go a long way when combined with high value training.
If you're looking for a training partner that can connect your employees with career-relevant training, look no further than Penn Foster. Your employees can access our online and mobile-friendly training on their terms. They'll gain experience, not just credentials.