Is Your Practice Prepared to Meet Clients' Needs?
Posted by Penn Foster on July 17, 2019
Veterinary medicine is a booming industry. With an estimated 67% of US households claiming at least one pet in the American Pet Products Association (APPA) biennial survey, there's no question that veterinary practices, both private and corporate, should be booming. However, with an influx of new pet owners, it's difficult for practices, small and large, to keep up with appointments and quality patient care without credentialed veterinary technicians on board.
With access to more information than ever on the internet regarding animal care and the sometimes costly expense of a regular vet visit, clients now have higher standards when it comes to the quality of care their furry friends receive. A lack of credentialed vet techs - whether you are trying to manage costs by operating without them or due to the high turnover rate across the board - can leave pet parents feeling unsatisfied with the care their pet receives.
The lack of client retention and difficulty sourcing new patients can also hurt a practice's bottom line. Gaining new clients and retaining current ones involves more than a comprehensive and costly marketing plan. Maintaining the health of your veterinary practice involves understanding the wants of a new generation of clients, implementation of wellness plans, and in-depth training for your veterinary technicians.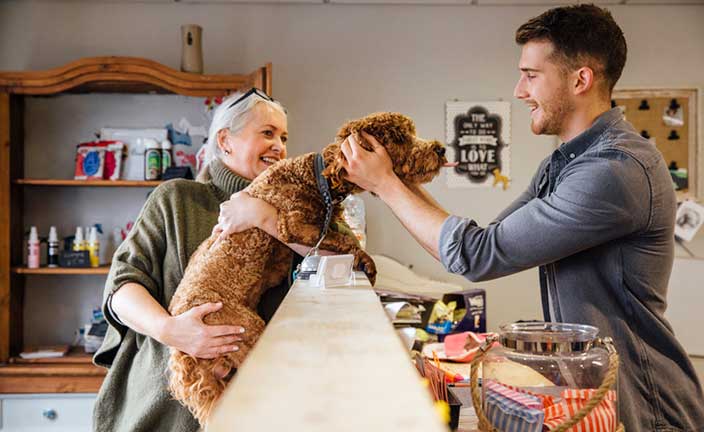 Millennials have greater needs than previous generations and they're willing to spend more for quality.
Millennials, defined as those persons born between 1980 and 1994, are now the largest demographic of US pet owners, with 35% owning one or more pets compared to 32% of baby boomers. They are also more likely than previous generations to view their pet as a valuable, irreplaceable member of the family. Viewing themselves more like pet parents than pet owners, they are willing to invest time into researching and finding as much information as possible to pinpoint the veterinary practice or services that will provide the best quality of care for their animals. If the patient-client interaction doesn't go well or they feel the staff at the veterinary practice they're patronizing is harried, stressed, or lacking confidence, the millennial pet parent has no qualms about moving from vet to vet until they find the right fit.
The cost of office visits and treatment plans aren't as much of a consideration when choosing a veterinarian for millennials. In fact, millennials are willing to spend more to ensure quality service and care. Spending on animal care increased 6.1% in 2018 for a total of $18.11 billion and the APPA predicts a 4.8% increase in 2019. Veterinary practices and clinics that don't attempt to keep up with the changes in pet owner's attitudes regarding animal care won't feel the positive impact of that increased spending and could find their client list dwindling.
Improving the quality of care and services can increase practice profits.
While veterinary medicine is about ensuring animals, domestic and wild, are healthy, a practice still needs to be profitable in order to grow and provide medical services. It may seem more lucrative to add extra services or charge more per visit - after all, pet owners are willing to pay - but those are short term bandaids, and won't improve profitability over time. The key to strong, healthy practice growth is making a long-term investment in the patients you see and the technicians who assist you. The first can be accomplished through the development of clinic wellness plans.
Wellness plans offer a more economically viable option for pet owners to ensure their animals receive preventative care and have regular office visits. Often based on a monthly payment system, a wellness plan allows a pet owner to pay a flat monthly fee and visit the vet as needed instead of waiting for health issues to arise because of the cost. In a case study, "How Wellness Plans Grow Veterinary Practices," researchers found that clients who participated in wellness plans went from an average of 3.3 visits per year to 5.5 after enrollment. Through more regular vet visits, the veterinarian and vet technicians are able to nurture a better doctor/patient relationship, resulting in more loyalty to your practice versus another where patients have to put thought and planning into each visit.
Besides the 69% increase in visits of plan users, there was also a 57% increase in revenue for medical services, from an average of $389 to $613. Leveraging wellness plans to provide more frequent care options to pet owners has a positive impact on the practice's profits, but also requires the practice to be well-staffed by skilled, dedicated assistants and technicians to handle the growth.
Credentialing and training for Veterinary Technicians are vital to thriving practices.
No matter how strong the client/veterinarian bond engendered through wellness plans and frequent office visits is, if the quality and speed of care declines over time due to practice growth, pet parents will take their furry family members elsewhere. It's essential to pair innovation and solutions with a number of trained, knowledgeable, and caring veterinary technicians to support a growing client list. Technicians confident in their abilities inspire trust in clients who view their pet as an indispensable member of the family. That's why investing in educating and credentialing your staff is vital to making sure your practice growth is sustainable.
Besides sustaining client retention and growth, offering your vet techs the option to further their education and training has several benefits, including
Further incentive for credentialing your veterinary technicians? Studies have shown that veterinary practice revenue increases for each trained and credentialed vet tech, at an average of $93,311 per veterinary technician.
Training solutions for the health of your practice.
More than ever before, pets are considered a beloved family member and pet owners take their health and well-being seriously. Quality care is a must and owners will spend more on veterinary medicine for it. But in order to build and sustain your practice, trained veterinary technicians are a must. With Penn Foster's online veterinary training solutions, you can prepare your employees for success while building client trust and growing your practice. Contact us today to learn how our skills solutions can be customized to your needs.