2019 Commencement: Celebrating Outcomes and Learner Achievement
Posted by Penn Foster on June 6, 2019
The culmination of months or years of focus, rearranged schedules, and late night studying is a noteworthy achievement for any graduate, but is often even more so for those learners who pursue their goals outside of a traditional school setting. Whether through employer-sponsored upskilling and workforce development initiatives or personal efforts to start a new career path or advance within their current company, these learners are working toward a tangible outcome: improving their lives through education. And though that outcome alone is acknowledgement of success, there's nothing that feels quite the same as walking across a stage with fellow graduates, family and friends: a cheering cacophony in the background. In fact, commencement ceremonies have become so ingrained in the culture of education that, without it, the dedication and work that lead a student to successfully complete their course almost feels like a cliffhanger ending in a movie with no sequel.
Celebrating this milestone, be it quietly at home with friends or at an event with fellow graduates, marks the end of one chapter while joyously introducing the next. With graduates across the nation and spanning the globe, a physical commencement ceremony seems almost impossible to plan but each year, the event only grows.
The 2019 Penn Foster Graduation, held on June 1, 2019 at Mohegan Sun Arena in Wilkes-Barre, PA commemorated graduates' pursuit of credentials and education that could help them improve their lives, the lives of their families, and provide a foundation for future career growth.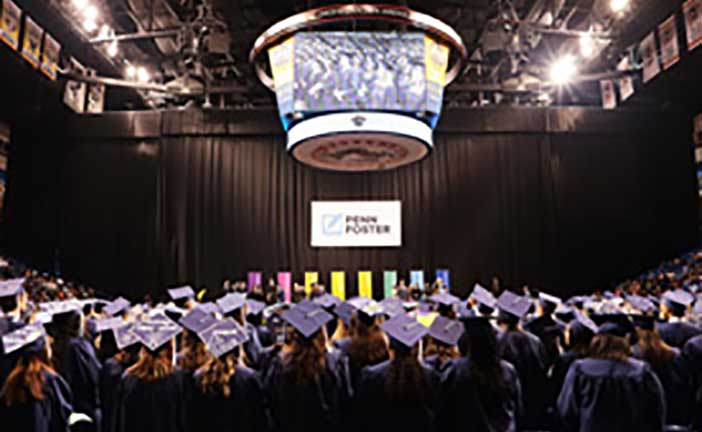 Graduation by the numbers.
The 2019 Commencement is, to-date, our largest celebration of student outcomes. With graduates and their families attending from across the country, we saw
Over 700 graduates walk the stage to acknowledge their completion of high school, career school, and college programs.
More than 3,000 guests there to cheer on family and friends who've worked hard to celebrate their achievements.
The graduates attending the ceremony, from different backgrounds and experiences, came together in a milestone moment that ended their latest educational endeavors on a high note.
The more learned, the more earned.
It's no surprise that the higher the level of education attained affects a person's earning potential. That wage gain isn't limited to just those who complete a bachelor's degree or higher. Data collected from the Bureau of Labor Statistics Current Population Survey shows that there's a 36.92% increase in median weekly wages for those workers who have a high school diploma versus those that don't. Further, those who do obtain a bachelor's degree earn, on average, 64.75% more than those who've completed high school.
The numbers alone are enough to convince workers to pursue furthering their education, but higher employee earning potential is also an asset for companies, increasing retention rates, worker performance, and more.
A wage is often more than a way to make a living for workers; it's a measure of how their work and contribution is valued by their employer. Providing opportunity to earn more through workforce development and upskilling programs not only increases the loyalty of your workforce, it also improves performance.
Acknowledging those who strive to improve and learn to the benefit of the company is necessary to solidifying the positive outlook of workers.
Celebrate achievement to sow success.
Ceremonies are vital to human culture and mark milestones both major and minor. Graduation, the celebration of an individual or group's academic achievements, is one of the more major moments that reinforces positive outcomes. The commencement ritual allows learners and their support systems, from family to employers, to take time to recognize the effort, stress, and commitment that are essential to finding success. Acknowledging the success of an endeavor, from finishing high school to completing an employer-sponsored training program, is a powerful tool that leaders can and should use to motivate workers to keep striving for better.
A 2013 Globoforce study found that 89% of people are motivated by acknowledgement of success, preferring to understand what they did well versus what they didn't. A graduation ceremony, whether a small, intimate affair, or a large, public event, provides an opportunity for concrete proof of acknowledgement that can motivate the celebrant to continued success.
Valuing the weight of education.
Often, the completion of bachelor's and master's degrees, or doctorates, is heartily applauded and widely acknowledged. High school graduates are commended for finishing this first chapter in their lives, before moving on to the next adventure. The work done to complete any academic program is worthy of praise, but those learners who complete career or trades programs find themselves left out of the celebration, quietly adding their new credential to their resumes and going back to normal routines. While that does not lessen the knowledge gained from completing their coursework, it can feel like it.
That's why, at Penn Foster, we're dedicated to helping students across trades and skills, as well as college and high school graduates, understand and value the weight of their degrees at formal ceremonies like that held on Saturday in Pennsylvania. The recent ceremony honored the dedication and struggle of both traditional and nontraditional students alike, allowing graduates from certificate, degree, and skilled trades programs walk the stage together to accept the congratulations that were their due.
While completion of a program can boost a resume, or qualify a worker for promotion in their current career, the formal acknowledgement of the accomplishment can make a long term impact on their career confidence and work performance. "The graduates here," said Frank Britt during his opening speech at the ceremony, "are proof that if you give people the chance to take control of their future, they can do some incredible things."
You can give your employees the opportunity to take control of their future and their career in ways that can benefit your company in the long-term with upskilling and workforce development initiatives from Penn Foster.
If you're a partner interested in learning more about our graduation ceremonies and how your learners can take part, contact our team today and watch the live stream of the event.