How Does Online Learning Work for Working Learners?
Posted by Penn Foster on June 12, 2019
You might already be convinced that giving your employees access to training and educational opportunities is good for them and good for your business. Now you have to decide what kind of learning opportunities to offer them. Should you hire an in-house trainer? Partner with a local community college? Provide tuition assistance for a traditional four-year institution? Online learning is becoming more and more popular. Is that an avenue worth exploring?
While each type of training and educational opportunity has its benefits and drawbacks, online learning is the most flexible, scalable learning option available. More and more employers are turning to online learning as the cornerstone of their employee development program. Which might leave you wondering: how does online learning really work?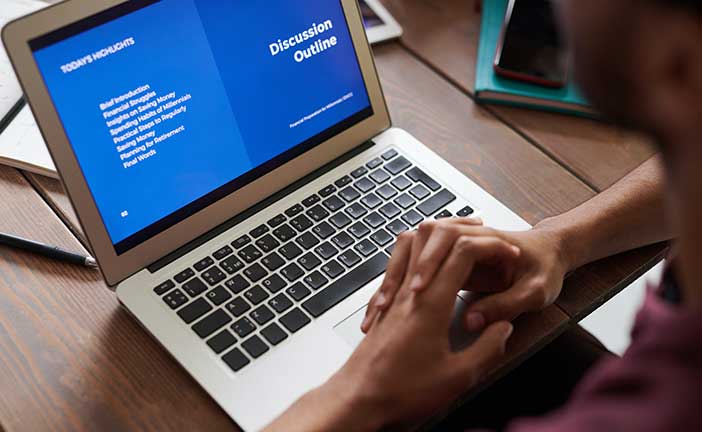 How online learning works: the short answer
There are many different online learning platforms, and each one has its nuances, but the general framework looks like this. A student signs up for a class. The student gets access to recorded lectures, digital texts and other course materials. When the time comes to take a test, students fill in their bubble sheets and short answer questions using an online form. If they need help at any time, they can contact the professor through email or an online portal. In the end, they get a degree or certificate recognizing their progress.
It sounds simple when explained that way, but you probably still have some questions. Questions like:
Is online learning effective for working learners?
How do I measure worker progress?
How do I decide between online learning programs?
A deeper look at how online learning works will help answer some of those questions.
How online learning works: the in-depth version
The first step is to contact a learning partner. Once you've made contact, an education expert will help you assess your needs and decide whether your employees need degree programs, career diplomas, certifications, or even customized skills playlists to hone specific skill sets. Your learning partner will pull from a portfolio of skills training and education programs to meet the needs of your employees.
As employees enroll, they can set their own timelines based on how much free time they have and how quickly they want to progress. You can track their progress using dashboards and reports. You'll be able to see how students are moving through the programs, completion rates, and other essential data.
At the same time, your working learners will get wrap-around support to improve their likelihood of success. They'll have access to mentors, coaches, technical support and more to remove barriers to completion and keep them motivated.
Students can login to the learning portal from any internet enabled computer or mobile device. They can study when and where they want. Upskilling doesn't have to interfere with day to day work, but engagement from leadership and peers can help your working learner stay on task.
Once a learner has completed the program, they'll get their certificate, diploma, or degree. You'll get a learner with more skills and a deeper understanding of workplace expectations. Everybody wins.
The benefits of online learning for working learners
There is no significant difference in educational quality between online learning and traditional classroom settings. In fact, MIT found that students might actually learn more from online classes than they do sitting in a classroom. That's a hotly debated idea, but what is certain is that online learning brings some special advantages for working students.
It's asynchronous - Students don't have to attend classes at a specific time. For students on shift work, or indeed, any worker whose schedule isn't 100% predictable, attending class at a specific time can be a challenge. This creates an opportunity for working learners. If they're more clear-headed and ready to learn in the morning, they can study early, before they go to work. If they tend to be night owls, they can study at night. This helps them stick with the program and reach the goals you've helped them set for their careers.
It's always accessible - Online learning let's students study from anywhere they have an internet connection. In the modern world, that means they can study pretty much anywhere. On the train on the way to work, on the sidelines at their kid's soccer game, even on breaks at work. Their coursework is never more than a click away, which means they upskill quickly.
It's flexible - Working students are often juggling multiple competing priorities. Not only are they working and studying, but many have children or parents to care for. Online learning gives them they power to create a schedule that works for them. They can adjust schedules and timelines to meet changing needs. It's easier to stick with a program that can adjust to changes in your work and personal life.
As the employer, you get some valuable benefits as well.
It's customizable - Penn Foster works with you to customize courses that meet the needs of your working learners. Pulling from our library of more than 7,000 hours of content, we tailor a program to cover the objectives most relevant to your organization's learning goals and your workers career pathways.
It's scalable - Classroom learning is restricted to a finite number of students. Only so many students can fit in a classroom at one time. Meanwhile, online learning programs are endlessly scalable. You can start with two learners and grow to 2,000 without hiring new trainers, building new facilities, or losing production space to classrooms.
It's easy to implement - When you take on the task of training workers yourself, it's up to you to find instructors, set curriculum, and manage schedules. Working with a traditional college is not much better. Sometimes it feels like higher education speaks a completely different language from the rest of the world. On the other hand, a learning partner like Penn Foster takes care of all the details for you and knows how to speak your language. We work with businesses in the skilled trades, restaurant, retail, hospitality, veterinary services, allied health and early childhood education industries.
To learn more about how to make online learning work for working learners in your company, contact a Penn Foster learning expert. We have thousands of employer partners across the country who are upskilling their workforce through Penn Foster online learning programs.