How Manufacturing Facilities Can Achieve Safety
Posted by Emma Rose Gallimore on November 19, 2019
Keeping your employees safe is one of your top priorities. This should be true in any business, but it's especially important in the manufacturing industry, where hazardous equipment and shifting technology are a dangerous combination for the untrained worker. An investment in industrial safety training does more than help you meet health and safety regulations, it protects your workforce and your bottom line.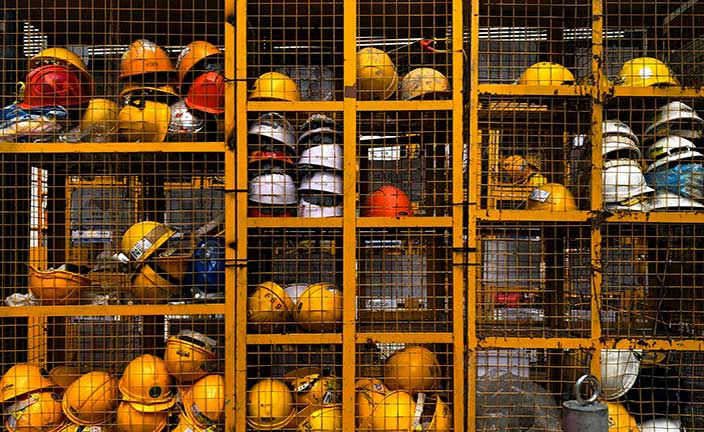 Health and safety in the manufacturing industry
Over the last few decades, manufacturing has gotten safer and cleaner. New technology has altered the face of the industry. Where many people envision dirty equipment and dangerous conditions, most manufacturing floors are cleaner and safer than ever before.
But health and safety is still a pressing issue in the industry. According to the National Safety Council, manufacturing and production ranks third in the number of workplace injuries resulting in time lost. In spite of new technologies, many manufacturers still work with heavy equipment, hazardous materials, chemicals and high-powered electricity on a daily basis. Staying safe while working in these conditions requires good health and safety training at all levels.
In some cases, the technology itself is adding to health concerns. Line workers may deal with repetitive motion injuries if they are not properly trained in ergonomics. At the same time, automation means that manufacturing workers need to stay up to date with evolving technologies, leaving less time and attention for building safety skills.
If you don't make health and safety a priority, your manufacturing staff won't either. It's up to you to set the expectation for industrial safety and then provide the tools and training so they can meet that standard.
Why invest in health and safety training
There are many reasons to invest in safety training for employees. The first and most vital is that all human beings deserve safe, healthy workplaces. Giving employees the tools to safeguard their health and promote their own safety is just the right thing to do.
It's also good for your business. In 2017 the total cost of workplace injuries across all industries in the United States was $161.5 billion according to the National Safety Council. This cost includes time and productivity lost, settlement costs, and insurance fees. Businesses that don't meet the minimum standard for safety training may be subject to OSHA fines and other penalties.
The monetary cost is just the most obvious effect of a workplace accident. Over the last couple of decades, the manufacturing industry has worked hard to change its image and make manufacturing a more attractive job prospect. On the job injuries can reverse this progress. Even one injury may confirm the worst fears of people who aren't yet convinced that the industry's new image reflects a new reality.
Fortunately, you can avoid these costs while protecting your employees and your reputation. All it takes is a safety-focused training program. When you train employees in safety, you help them see it as a vital part of your business's culture. You show them that their health and well-being is important to you. Ultimately, this can lead to happier staff and greater employee retention.
Essential elements of a safety training program
Unsafe conduct occurs in two situations, when employees are unaware of the risks, or when they believe the benefit outweighs the risk. With proper training, you can help employees understand the benefits of safety measures and include those standards in their everyday operations. At the same time, you show them that safety is a top priority, one that should not be sacrificed just to increase productivity or save a few extra dollars.
When searching for an industrial safety training program look for these essential elements:
Meets regulatory guidelines. The training you provide should keep your employees safe while also helping you meet industry mandated health and safety training standards. Look for a program that aligns with OSHA and National Safety Council guidelines.
Online and self paced. Choose a program that allows your employees to study whenever they have time and an internet connection. Self-paced learning will help them retain more and feel more in control of the training process.
Configured to meet the needs of your team and their work space. Your manufacturing facility is unique and so is your team. Look for training programs that can be customized to focus on issues most relevant to health and safety in your workplace.
Remember, training doesn't have to be directly safety focused in order to protect the health and well-being of your employees. Any training that helps employees build connections, do their jobs more efficiently or improve workflows can contribute to safety improvements.
Industrial safety training from Penn Foster
Industrial safety training courses promote a safe and healthy working environment by giving every employee the tools to protect themselves and their colleagues. With 50 hours of course material delivered in accessible units, Penn Foster's Industrial Safety Training Course list covers all of the essential safety topics, including chemical, fire, pressurized gasses, and electrical safety.
These self-paced courses give every working learner the keys to their own health and safety by allowing them to control their own learning schedule. From entry-level workers to supervisors, everyone can build the skills to balance safety and productivity.
Give your working learners access to all 50 hours of course material, or provide customized programs to target specific areas. Our Training Consultants will show you how.