An Opportunity Builds in the Construction Skills Gap
Posted by Emma Rose Gallimore on October 2, 2019
Depending on your perspective, the construction industry is facing either a serious problem, or a valuable opportunity. Throughout the building boom from 2012 to 2015, general contractors and construction companies struggled to find enough workers to do the job. Now, as growth levels off, general contractors and other industry leaders find that the construction skills gap is as pressing as ever. But that problem masks a valuable opportunity.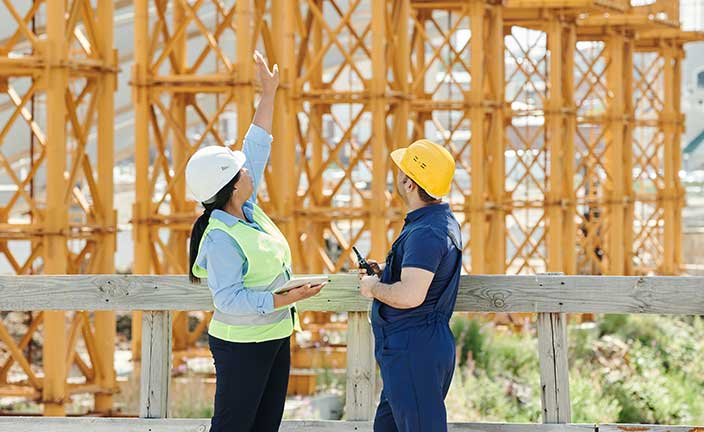 Contributing factors to the skills gap
The United States is one of the largest construction markets in the world, valued at more than $1,293 billion USD. After double digit growth from 2012 to 2015 and more modest growth in the following years, construction stats are projected to hold steady in 2019. With the aging infrastructure in many cities across the United States, public works construction is likely to see the greatest expansion in the short term, followed by institutional buildings for education and healthcare.
It makes sense that general contractors and construction companies struggled to find enough workers during the boom period. After all, demand had risen and supply needed time to catch up. However, the problem didn't go away when the construction market calmed down. According to 2019 Construction Outlook Survey Results 79% of general contractors say they are having a hard time filling some or all positions.
As a result, the cost of building projects have risen and projects are taking longer than expected. Could this be contributing to the slowdown in new building projects? It's certainly costing contractors money. A Wells Fargo survey of site preparation, excavation and heavy highway contractors found that 47% of workers believe their biggest cost concern is the ability to hire qualified workers.
Construction companies and general contractors aren't the only ones affected. This double drawback could have implications that reach far beyond the construction industry. Slower and more costly building projects hobble economic growth and business development. From education, to hospitality, to technology, every industry suffers when they don't have the buildings or infrastructure they need to expand. A construction skills gap leads to shortages for all.
Closing the construction skills gap
It's not a matter of just improving job postings or increasing recruitment efforts. These strategies assume that skilled construction workers are out there, and general contractors just need to find them. The reality is that there aren't enough skilled workers to meet demand. According to The Associated General Contractors of America, the number of unemployed workers with recent construction experience has been at a record low for months. So what's a general contractor or construction manager to do?
Some are introducing new technologies. From project and document management software, to drones and robotics, technology helps contractors scale their business to meet demand. However, these technologies are creating problems even as they solve them. New technologies add new dimensions to the construction skills gap. Even workers who have been in the construction industry for a long time, might have little experience with these software-based solutions.
If technology alone can't close the construction skills gap, what can? The answer is training. In the AGC survey, 63% of general contractors said they intended to increase their investment in training and development. Investing in training means that general contractors don't have to fight for the few skilled workers who aren't already employed. Instead, they can train new hires and long-time employees to meet the demands of the modern construction workplace.
Targeted training and apprenticeship programs help inexperienced new hires become skilled professionals. At the same time, they give experienced workers the tools to stay up to date with the latest changes in technology, safety, and industry standards.
Here are three ways you can structure training programs to close the construction skills gap in your organization.
Apprenticeships - Apprenticeship programs are growing in popularity across many industries and the construction industry is no exception. Help new hires prepare for a career in construction with apprenticeships for carpenters, construction laborers, plumbers, facility maintenance mechanics, HVAC technicians and more. Work with an experienced training partner who can provide content designed to meet Bureau of Apprenticeship and Training standards.
Professional Development - Focused training can help entry-level workers build skills and contribute more on your job site. From technical skills to industry safety standards, you can upskill your workers to prepare them for more responsible roles within your organization. Turn general laborers into specialists with topical programs that meet their training needs.

Targeted Skills Training

- Some workers may have strong experience and abilities, but lack expertise in one area. Round out their skill set with targeted skills training. Create

customized skills playlists

that help working learners acquire new skills quickly so they can keep contributing to the success of your business.



Any one of these training strategies can make a difference in your organization, but the best effect comes from combining all three into a customized training solution. Offering apprenticeships, professional development and targeted skills training keeps workers engaged and improves their skills.
While the construction skills gap is a problem, it's also an opportunity. The opportunity to build a construction workforce with the specific skills your business needs. For help creating a customized training solution, talk to the training and development experts at Penn Foster.