Career Pathways in Healthcare
Posted by Emma Rose Gallimore on October 23, 2019
The healthcare industry has been booming for decades. While consistent growth brings plenty of opportunity, it also creates challenges. The skills gap in healthcare is real and pressing. To continue to meet the needs of their patients, healthcare employers need a strategy to attract and retain middle-skills talent.
Career pathways should be at least a part of that strategy. With the right training, workers in non-clinical roles can transition to clinical roles. Similarly, new hires for entry level positions can upskill for more specialized jobs.
When you pave clear career pathways for employees, you do a lot more than help them find their next position. You give them the tools to contribute and thrive within your hospital or clinic. As a result, they're more engaged and provide better patient care. They're also less likely to search for new opportunities elsewhere. Career pathways build loyalty, strengthen talent pipelines, and improve outcomes for your organization.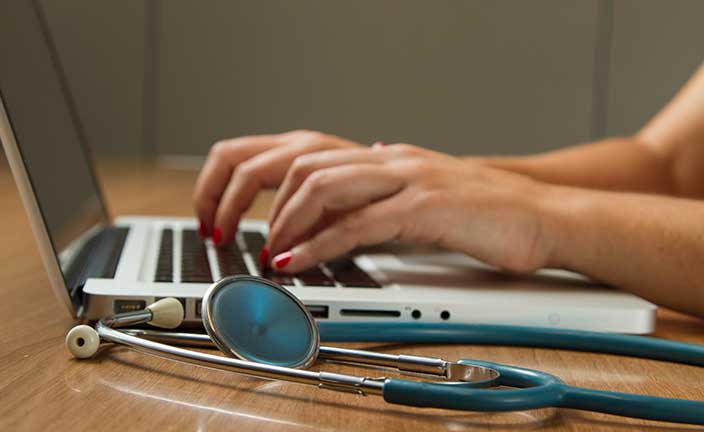 A skills gap in healthcare
Aging populations and advances in medicine are contributing to a slow and steady healthcare boom. While many industries are facing a skills gap, the mismatch between open positions and people to fill them is part of a three-decade trend in healthcare that shows no signs of slowing.
The United States as a whole is facing a skills gap fueled by many factors, including record-low unemployment rates and a high workforce non-participation rate. Those factors alone would be enough to cause a talent gap in healthcare. But there's even more at play. Over the last three decades, the demand for healthcare jobs has risen, regardless of what else was happening in the economy. The 2008 recession didn't slow the rise in healthcare jobs, neither did other periods of high unemployment.
The Bureau of Labor Statistics expects the healthcare industry to grow 18% by 2026, adding 2.4 million new jobs. Many of these jobs will be in allied health. So healthcare employers are faced with a challenge: How do they find and keep enough staff to fill open positions? One solution is to provide career pathways for employees.
According to a Gallup survey, 59% of millennials called opportunities to learn and grow extremely important when choosing where to apply. Well-established career pathways make your organization more attractive to new candidates, because they represent opportunities for professional development.
At the same time, career pathways help you retain your best employees. According to a LinkedIn survey, 94% of employees said they would stay longer with an organization that invested in their career. Showing them paths for growth and development, and helping them navigate those paths keeps employees on the job longer.
What do career pathways look like?
Career pathways can take many forms depending on the size and function of your healthcare organization. Build career pathways that support your talent pipeline while giving employees opportunities to grow. Here are some examples of career pathways you could build within your organization.
Example 1: Health Administration Pathway
A receptionist or un-certified medical assistant could become a Certified Clinical Medical Assistant. In order to be eligible to take the certification exam, a worker must first complete a certifying body. While certification is not required in all states, medical assistants and other administrative workers may be restricted in their job duties if they don't have certification. Credentialing allows them to take on more tasks. As an employer, you could recognize their achievement with pay increases or other benefits.
From there, a certified medical assistant may advance to more responsible roles as a lead medical assistant or medical office manager. Depending on interest and the needs of your organization, Certified Medical Assistants may also explore specializations or branch into other areas of the business.
Example 2: Pharmacy Pathway
A pharmacy assistant may become a certified pharmacy technician. Most states require certification for pharmacy technicians. To prepare for certification exams, prospective pharmacy technicians can take ASHP/ACPE accredited courses. Earning certification allows the new technician to take on more responsibility within the pharmacy. After certification, a pharmacy technician may also choose to specialize in compounding, nuclear medicine, or some other advanced area of expertise.
From there, certified pharmacy technicians may become supervisors or choose to continue their education to become licensed pharmacists. They may even make the switch to nursing or pursue education to become a medical doctor.
These are just examples of how employees can grow and develop within your organization. For greatest effect, career pathways should be tailored to the individual.