5 Best Practices for Implementing a Successful Workforce Development Program
Posted by Jake Sotir on September 12, 2019
As unemployment numbers continue to hover below 4% nationwide, many organizations with open positions have found it difficult to find skilled workers. As a result, many are turning to education in order to reduce the need to hire externally; employers are opting to train and upskill their workforce from within. While the return on investment for providing in-house skills training is more than worth the initial cost for most employers, generating demand and momentum for your workforce development program from the beginning is vital to long-term success.
The first month or two of any workforce training program implementation is a crucial time period when it comes to the overall success of the program. It's a make-or-break stretch in many ways, as a strong first couple of months can go a long way toward generating buzz for your program.
So, how do you make sure that you're hitting the ground running from the start? How do you ensure that you're not only generating enough momentum at the outset but keeping the ball rolling well into the future?
Here are five best practices to keep in mind when implementing a workforce development program at your organization.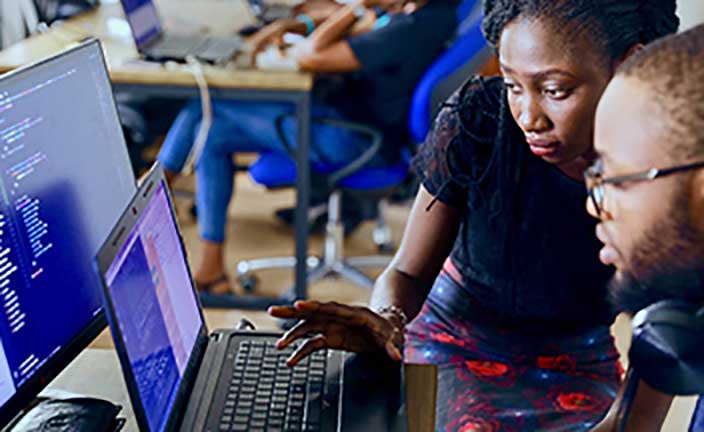 1. Talk about your workforce development program early and often.
Before you launch a program, there are several steps that need to be taken to ensure your goals for the program are met. Program launches typically see the most success when they are accompanied by a designated "pre-launch" period, where the organization takes the necessary measures to raise awareness internally before the program even begins.
Successful tactics for spreading awareness in this pre-launch period include building a dedicated informational landing page for the program (even better if learners can enroll directly from the site), sending email announcements to potential learners or other company stakeholders, printing and posting print collateral in high-traffic areas at your organization, and hosting informational webinars. The more you can do to increase overall awareness and excitement, the better you'll position yourself to amplify demand upon launch.
A successful pre-launch period can accomplish a few key goals:
Creates name recognition (whether it's a newly-branded initiative or simply the name of your educational provider)
Prompts word-of-mouth exchanges to increase initial momentum
Generates excitement among colleagues and employees
2. Make a big splash with your workforce development program.
Another thing that many of the most successful launches have in common is the emphasis they place on the announcement itself. Rolling out a training program for your employees and associates is an exciting initiative! If you don't show how excited you are to offer this as a benefit, why should they be excited about it?
In order to spread overall awareness about your program to external audiences, press releases are a helpful tactic. If you have a relationship with a PR agency or any news outlets in particular, getting the word out to the public is a great way to signify to your employees or associates that this is an investment to which you are fully committed.
Internally, you can make a splash by celebrating the launch with a party or "opening ceremony" and by developing and giving out different kinds of branded swag. Additionally, you should be announcing the launch of the program however you typically communicate with your employees. Emails, internal intranet messages, and office-wide meetings are great ways to get the word out.
3. Cast a wide net.
While word of mouth, posting print content, and even press releases are great ways to announce a new program, the efforts shouldn't end there. There are more channels you should be taking full advantage of in order to maximize interest.
Spreading awareness via social media is also a great way to utilize yet another high-impact channel to reach a wider audience. Social media can be a helpful channel to utilize in order to get the word out about the program and to connect with your employees and associates in a more personal way. Whether it's Twitter, Instagram, Facebook, or LinkedIn, meeting people where they already consume much of their daily content is a great way to increase overall awareness of the initiative.
Internally speaking, having an email nurture campaign ready to go upon launch is a great way to spread awareness of -- and generate excitement for -- your workforce development program. Many eligible potential learners will not make the leap and enroll in a program the first day and will need a bit more hand holding. It's a big step for a lot of people to decide to reinvest their time in education. What's more, people are busy, and sometimes it takes staying in front of them and following up with reminders to get them to take action. Most successful email campaigns include at least five touches, with each containing varied messaging.
A website or landing page that includes more information about your program is also a great way to generate enrollments. You can then drive traffic to this landing page from your email or social campaigns, inviting interested parties to visit the page to learn more. As a landing page has more room to host content, this is a great place to highlight employee testimonials, celebrate the success of the program, offer critical contact information for help and support, or to simply gate enrollments.
4. Emphasize ongoing learner support.
Again, many potential learners may be hesitant to take the leap and enroll in a program. It may have been years since some of them were students of any kind, and the thought of balancing time to study course materials with earning a living can be a scary one. That's why it's important to have a strong support system in place " and emphasize it as much as possible " to make sure that the learners understand that their success is a top priority for your organization.
Penn Foster offers a wide range of support services to all enrolled learners. Not only can learners access support services 24/7 from inside their learning portal, but Penn Foster's team of dedicated faculty and staff are committed to supporting learner progression by proactively providing academic and motivational support throughout a learner's time in the program.
Support services should be a major point of emphasis when rolling out a new program, as even the smallest amount of motivational or academic support can be the difference between a learner falling short of their goal or completing the program. In fact, over 75% of Penn Foster students¹ say they need at least a moderate amount of support to be successful in a training program.
No matter the level of support you offer learners, letting them know that you are dedicated to their success is crucial to generating continued enrollment in the program.
5. Celebrate the success of learners who complete the program!
This is an exciting achievement for your learners, and their successes should be celebrated! Not only does recognition feel great after working hard to complete a program, but it's a great tool for motivation as well. For the learners who haven't yet decided to enroll, seeing the recognition that others receive for completing a program could be the push they need to get started. For others currently enrolled, it could be the difference between giving up and pushing forward toward completion.
Sharing the success of graduates on social media platforms like Instagram and Twitter, announcing graduates via internal messages " even hosting formal graduation ceremonies if resources allow for it " are all amazing ways to celebrate the accomplishments of graduates. Additionally, celebrating graduates upon completion of the program goes a long way toward building a strong network of evangelists you can leverage as motivational resources for current learners in the future.
Find out how to implement your own training program with Penn Foster.
Implementing a workforce training program is a major investment of both time and money. As such, it's crucial that your organization does everything it can to realize a return on your investment by finding the right education provider.
Penn Foster offers a wide range of support services designed to help employers and their learners get the most value possible out of the programs they implement. Support services include a dedicated client success team, ongoing marketing support, and learner-facing success coaches who assist with learner progression and motivation.
To learn more about how Penn Foster can help you implement a best-in-class workforce training program, reach out to us today!