Graduate of Online Veterinary Academy Joins VCA Animal Hospital as Veterinary Technician
Posted by Des Sinkevich on September 26, 2019
Recruiting and retaining dedicated employees who are a good match for your company, and are passionate, reliable, and talented is a struggle for hiring managers in any industry. In a high-stress field such as animal medicine, it can be especially laborious for practice hiring managers to source, train, and retain skilled talent. It becomes even more so when your candidates need to meet certain prerequisites, such as experience in the field, basic knowledge of how animal medicine works, and - depending on the position - national credentials. Adding to the often arduous and expensive process, hiring managers or veterinarians also must balance the workload for current staff and attempt to ameliorate potential problems in order to avoid the higher than average turnover veterinary practices face.
Whether you're filling positions at a private veterinary clinic or a corporate one, ensuring you find the right fit in almost all categories can be essential to building and maintaining office morale, improving the quality of patient care, and increasing practice revenue. You're looking for someone like Jennifer Guidry.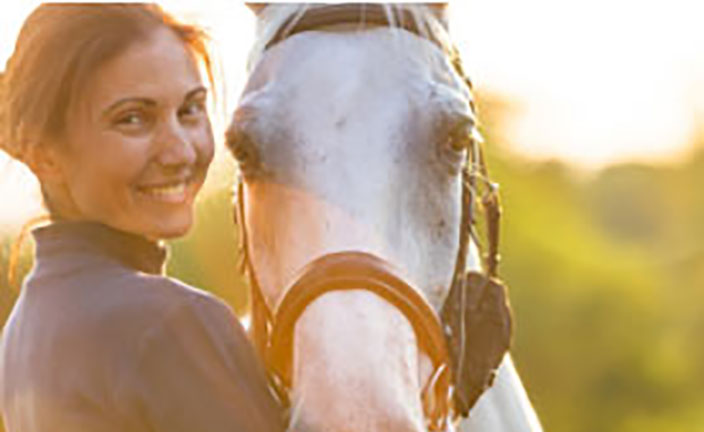 A lifelong passion for veterinary medicine
Guidry, a graduate of Penn Foster's Veterinary Technician Associate Degree program and a military spouse, had devoted most of her early life to studying Equine Management, earning a Master's Degree in the field. Combined with her early apprenticeship with an international show-jumping barn and stud-handling facility, she was more than prepared to dive into working with horses and large animals. Her marriage, however, would take her out of her home country - Germany - to the United States and an area in which the need for skilled and educated equine specialists was nearly non-existent.
As a military spouse, Guidry knew that she'd be living a mostly portable life - at least for a while - which meant that building a career that aligned with her passion for working with animals would be challenging. It was, however, a challenge she was prepared to face.
Strengthening her skills and building new ones in the Veterinary Academy
With a degree that she couldn't utilize in her new country and circumstances, Guidry sought a new avenue to find meaningful work. She found Penn Foster's Veterinary Academy. Through the AVMA-CVTEA accredited veterinary technician program, which provided both the flexibility and the rigor she needed from an academic institution, Guidry set about realigning her career goals to work toward becoming a credentialed Veterinary Technician. Besides honing her knowledge of animal medicine and redirecting her experience in equine management to find success in her degree program, she began to strengthen skills that she didn't know would be vital to her success in the future.
In the online, self-paced Veterinary Technician Degree program, Guidry had to rely on her motivation to reach her goals to keep her on task. With having to change residence due to her husband being reassigned to new locations by the Army several times, staying on top of her studies and externship requirements wasn't easy. She'd networked with peers and faculty through her program, and relied on the Penn Foster Community to help remind her why she was working so hard to balance her hectic life with building a career she was passionate about.
"I knew I always had a village behind me," said Guidry. But even with that village ready to rally around her, she knew it was up to her to stay motivated, focused, and progressing.
"It helped me be self-motivated and become a self-starter," she mentioned, skills that don't necessarily come packaged with a traditional degree program. Becoming stronger through independently completing her studies, her passion and work ethic made her a compelling candidate for an open position at Flemington Animal Hospital. After passing the Veterinary Technician National Exam (VTNE) on her first try - or "one and done" as the other students in the Penn Foster Vet Tech Community say - Guidry moved at the military's behest and found herself applying to several positions in her new state.
She was quickly hired on as a veterinary assistant at her local VCA Hospital. Pending the results of her state certification exam, she'll become a Certified Veterinary Technician for the clinic. Guidry credits not only the technical skills that came part and parcel with her online studies, but also the mental skills that have made her a strong team player who is willing to learn and grow with her hospital.
Online training can take your veterinary practice to the next level
You're looking to hire skilled, trained veterinary assistants and technicians that can grow with your practice. But even more important, you're looking for employees you can rely on and retain, who're willing to learn and develop their skills. While finding a perfect fit like Jennifer is no simple task, taking the time to upskill and train your current practice employees with Penn Foster's flexible, online coursework can not only strengthen your retention rates and practice bottom line, it can provide you with self-starters who are leaders in their field.
To find out how the Veterinary Academy can benefit your practice, contact us today.