How to Help Your Employees Maintain Work-Life Balance During A Pandemic
Posted by Mara Hyman on April 29, 2020
Since lines between our work and home lives have blurred more than ever before, it's vital for employers to encourage as much balance as is possible for their employees' physical and mental well-being. There are small yet effective steps that businesses can take, if they haven't already, to help employees perform their best during this stressful time, while maintaining their sanity.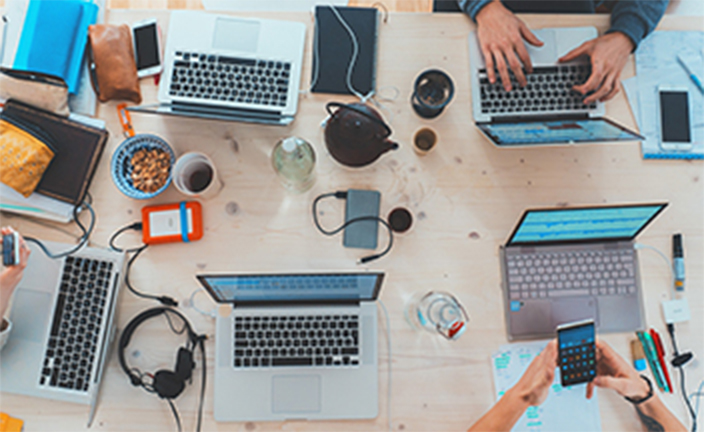 Encourage employees to take breaks
The coronavirus pandemic is a once-in-a-lifetime circumstance, and naturally it can take a toll on an employee's mental health over time. If they're working in-person in an essential function, breaks are necessary to clear one's mind during this stressful period. Allow workers time to check in with their loved ones, take a walk, or even meditate. Let your employees take lunch breaks and tend to their families. As a result, they will come back to their work clear-headed, focused, and ready to be productive.
Lead by example
You can make recommendations to your workforce, but it's up to you to guide best practices that will help unite your team during this shared struggle.
Start your morning meetings with words of encouragement. Check in with employees who may have a family member or friend who has contracted the virus. Maybe even inject some humor by sharing a funny meme or article with the team. If you're encouraging your employees to work normal hours, lead by example and do the same by not sending emails during odd hours of the night.
Workers are desperately seeking positive energy and encouragement, and that starts at the top.
Practice sympathy
Let's face it: these aren't normal circumstances. Even if your employees appear to be handling the situation on the outside, people are grappling with an international pandemic while simultaneously trying to do their best work, which is undoubtedly stressful. Many parents are juggling work with homeschooling and caring for their children. Workers may be caring for a sick family member. A company may have recently had a layoff, and the remaining employees are still grappling with that and shifting priorities.
It's important to recognize that your employees may not be in the same head space and have the same focus and drive that they did pre-coronavirus. That is understandable, and so employees should be given patience and sympathy. Kindness and respect will go a long way in terms of ensuring employees' commitment and dedication during this time.
Adjust your company culture
In a time of stress and confusion, employees are likely longing for the elements of community that made the pre-coronavirus team experience a positive one. Try and replicate your company's culture and traditions in this new environment so that it doesn't feel as though the culture is lost.
If you normally have a drink with your team after work, coordinate a virtual happy hour at the end of a long week after a shift to boost spirits and help teammates clear their heads. If you do team member shout-outs to share wins or particular accomplishments, keep that going via email to help boost confidence and morale. People need a sense of connection more than ever, and creating that bond in unique ways through the continuation of an established company culture can certainly help.
Encourage employee education
Help your employees take advantage of this time spent at home by encouraging educational development. This is a great opportunity for workers to fine-tune certain skills and upskill others during their down time. From individual courses to full online programs, your staff can upskill to return to the workplace better than ever.
Employees, as a result, will feel more confident in their abilities, improving their performance and productivity - a win-win for both them and your business!
Interested in learning more about Penn Foster's courses for your employees? Reach out to our team for guidance in setting up a training program!