Celebrating Our 2020 Milestones
Posted by Des Sinkevich on December 2, 2020
2020 has been a year unlike any other. With the pandemic changing our economy, how we work, and what roles are considered essential, there's a lot to talk about. The past months have shown that adaptability and innovation are vital to success – with or without a pandemic – and that the future of work is going to look a little different next year. As we prepare to take on a new year, we're looking back at our 2020 milestones to get ready for a positive start to 2021.

Throughout the year, we've had the opportunity to rethink how education is delivered to learners while creating new partnerships and cutting-edge improvements to our platform. Addressing the challenges of upskilling during a pandemic while offering avenues for displaced workers to prepare for new roles demanded adaptability and a willingness to learn and grow as a skills training company now and into the future.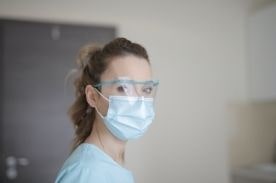 Meeting the pandemic head on
Within a few short weeks in March 2020, the COVID-19 virus went from something to be vigilant of, to a global pandemic, shutting down businesses and countries alike. The quick-spreading virus strained hospital resources and workers within a short amount of time, and the need for skilled frontline healthcare professionals grew. In response, Penn Foster partnered with Southern New Hampshire University and Guild to provide a free, short program to train workers and volunteers to safely and accurately test for the virus.

Offering the program free of cost was an essential part of our effort to stop the spread and continue our commitment to serving our communities.


Building new partnerships & strengthening current relationships
While how we work and learn has changed due to social distancing, our dedication to our partners hasn't changed. In 2020, we partnered with organizations around the country to provide training and upskilling to incumbent and displaced workers. Some new partnerships include
The Colorado Workforce Development Council. Partnering with Penn Foster, the CWDC launched the Lives Empowered Training Academy in April, featuring four programs designed to support workers as they move up in the retail industry.
Bendable. Launched in South Bend, Indiana, the program aims to offer community-based learning resources around several topics.
JFF. JFF's mission is to build a society in which everyone has the opportunity to access the skills, resources, and credentials they need. In partnership with Penn Foster, JFF "is positioned to further develop the technology, programming, and regional reach necessary to support workers who have benefitted from Penn Foster's tried and true methodology."*
We've also helped our partners do more to upskill and reskill workers.
Walmart's Live Better U. First launched in 2018 through Guild, in 2020 we've grown our partnership with the nation's largest employer to offer six new skilled trades programs, as well as optician and pharmacy technician training.
YouthBuild. Historically, we've partnered with YouthBuild to help learners earn an important credential: their high school diploma. In 2020, we've expanded the partnership to offer opportunities for economic mobility through programs in in-demand industries like healthcare, skilled trades, and retail.
In 2021, as we continue to grapple with the effects of the pandemic and how the economy has changed because of it, supporting our partners to get more people back to work, or in better jobs, will be vital to ensuring the economic mobility and opportunities for displaced workers across the country.
Launching a focused Healthcare Careers Institute
Hiring for in-demand healthcare roles has been historically difficult, with not all applicants meeting the minimum requirements to fill these frontline jobs. Additionally, education for skilled healthcare positions can often take longer than is ideal when a hospital or clinic is desperately looking for reliable staff. To address the training needs of employers while providing flexible, short-term training to displaced and new workers, we launched the
Healthcare Careers Institute
.
The Institute offers short-form training programs, which can be completed in 1-3 months, for positions like contact tracers, hospital companions, and home health aides that can serve as an on-ramp to allied health careers. These courses build upon Penn Foster's existing comprehensive set of training programs for in-demand occupations like medical assistant, medical billing and coding and pharmacy technician, aligned to industry credentials and certifications and designed to prepare learners for credentialing exams and externships within 6-9 months.
Enhancing skilled trades training programs
Preparing workers to take on hands-on skilled trades jobs through digital training can seem daunting. However, it doesn't have to be, and online courses can be effective in preparing workers for new roles and apprenticeships. With that in mind, we focused on updating skilled trades content in 2020, including new, cutting-edge technology, interactive simulations, and demonstration videos to reinforce the lessons learned throughout the programs.


Looking toward the future
As an online education and training company, we're always looking toward the future. The future of work, the future of training, and the future of the communities we live and serve in. While 2020 has thrown us unprecedented challenges, we're more prepared than ever to take on the next chapter in 2021. Through constant innovation, growing partnerships, and an eye on social impact initiatives, we're building a stronger future for our learners, partners, and employees.
While you're preparing for the next year,
contact a Penn Foster training expert
today to build new upskilling, reskilling, and outskilling initiatives for your company.