How Project YouthBuild and Penn Foster Partnered to Turn a High School Diploma from Dream to Reality
Posted by Georgia Meyer on December 30, 2020
Obtaining a high school diploma is an important pre-cursor to entering the workforce or pursuing post-secondary education, but the reality is that for high school dropouts, it can be difficult to go back and complete their degree. As an educational, occupational, and leadership program for low-income youth who have dropped out of school, Project YouthBuild in Gainesville, Florida knows this better than most.

Since 2014, Project YouthBuild and Penn Foster have partnered to provide education to opportunity youth. The partnership offers students the chance to progress through Penn Foster's accredited High School program and earn a diploma. Through Penn Foster, 93% of Project YouthBuild students have earned their high school diploma.

We sat down for a conversation with Project YouthBuild's Director of Youth Services, Rachel Gillis, about what makes this partnership so impactful. At Project YouthBuild, Rachel oversees the day-to-day operations of the entire program, including students' academic success through Penn Foster.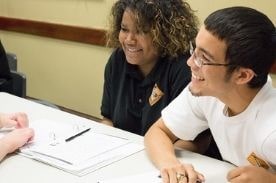 What makes Penn Foster a good fit for Project YouthBuild?
Rachel: Penn Foster has proven to be fundamental to Project YouthBuild and the overall success of our students. Each requirement of the Penn Foster program is linked to another piece of Project YouthBuild, ensuring that by the time students get their diplomas, they will have taken advantage of everything we have to offer.
How has Penn Foster addressed challenges you faced before this partnership?
Rachel: Before utilizing Penn Foster, our cohorts of students would work towards earning their GED. In 2014 when the tests changed, we saw a significant drop in GED attainment. This is what led us to Penn Foster, where we have seen a continued, outstanding 93% diploma completion rate. The course breakdown and functionality of each of the lessons allows students to see small successes which motivates them to continue until they have reached that end goal of earning their high school diploma.


How has Penn Foster played a role in remote education since COVID-19 impacted operations?
Rachel: When forced to close the school and go to a virtual learning platform, Penn Foster was indispensable. The majority of the students found comfort in that they were already accustomed to Penn Foster. That familiarity assisted in a more seamless transition.
As a partner of Penn Foster, how are you supported?
Rachel: The relationship that we have with Penn Foster has been fostered through consistent communication and ongoing support for both students and staff. Coming into this partnership, one of our goals was to find a more fluid way to tie each portion of our program together for the students. Penn Foster became that link for us. Our own requirements are seamlessly woven throughout the completion of the Penn Foster diploma. This allows the graduating students to be in the best position possible. By graduation, each young person will have taken advantage of all that Project YouthBuild has to offer. Our leadership courses, AmeriCorps hours, and even construction certifications are all contributing factors to our participants' long-term success.
How do your students evolve between enrollment and graduation?
Rachel: Often when a young person starts our program, there is a lack of confidence from previous academic failures. Penn Foster allows for a change in mentality from an "I can't do it" to an "I just did it" with the small, bite-size lessons and exams. The Project YouthBuild staff cheers students on in their credit success. You can literally see students' levels of confidence morph from day one to the day they earn their diplomas.
What does a high school diploma mean to your students?
Rachel: A high school diploma is more than just someone finally completing high school, it is a chance to do and be more. Before coming to us, many of our students do not see earning their diploma as something that they can accomplish. Not only does it give them confidence to go after more, but it gives them the ability to do more. College for many becomes not only a dream, but a reality for the first time. That diploma is hope.
What is your advice to a youth organization that is considering Penn Foster as an education partner?
Rachel: I would advise any organization considering Penn Foster to pilot a few students through the program. Initially, this is how Project YouthBuild found what a perfect fit it was for us. Piloting a few students in variety of places academically will allow you to understand just how versatile and useful Penn Foster can be.

Throughout the partnership, Penn Foster has worked closely with Rachel and her colleagues to deliver a program to that fits the needs of Project YouthBuild and its incredible students. By providing students the opportunity to earn a high school diploma, we assist in preparing them for their next steps in furthering their education or entering the workforce.

Project YouthBuild is one of over 50 YouthBuild USA locations currently offering Penn Foster courses. In June 2020, the partnership expanded beyond the high school program to include training in high-demand fields like healthcare and skilled trades. Through this collaboration, YouthBuild locations can access more affordable, on-demand, and online diploma and credential programs designed to equip their learners with the skills to succeed in a rapidly changing economy.

To learn more about the work that YouthBuild USA and Penn Foster are doing to help opportunity youth earn their high school diplomas, explore the programs offered, or find out how you can benefit from Penn Foster, contact a training expert today or explore our partnership further.