Top Vet Industry Predictions for 2021
Posted by Mara Hyman on December 4, 2020
The pandemic has resulted in a major shift in how many industries approach business, and this is certainly the case for veterinary hospitals. More than ever, practice leaders understand the need to place focus on a strong veterinary team, impactful engagement with clients, and top-quality care techniques that will carry them into the future.

Acknowledging that the industry has largely prevailed in this turbulent period, it's important to recognize improvements in the field and the tools that will be instrumental to any veterinary team's success in 2021, large or small. How can practices capitalize on the current success they may be experiencing to ensure that it lasts when the future is unclear? Here are some of our predictions for the state of the veterinary industry in the upcoming year and beyond.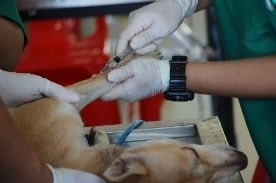 Increased need for employee prioritization
As pet ownership continues to rise, veterinary teams may find themselves overworked and multitasking to meet the needs of a lengthier client list. If not properly addressed, this could result in employee burnout and mental health challenges due to the stress of the job, impacting both the team as a whole and the clients they serve.

Veterinary employees require support from their practice leaders, which could take the form of increased recognition, evaluation of salary, and employer-sponsored education opportunities. When workers feel valued, their performance and job satisfaction will increase, ultimately benefitting all parties involved. An increased prioritization of every team member, from a veterinary assistant to a veterinarian, means that employees will feel empowered to bring their unique skills to the table to strengthen the business.


Utilizing vet techs in different ways
Any successful veterinary practice will understand the value of a team that includes credentialed veterinary technicians. When client appointments rise, these professionals can often step in for veterinarians to lead appointments themselves and offload the veterinarian's responsibilities to focus on the most pressing matters.

They provide a unique background and education that gives them the flexibility to step in and provide top-quality care without hesitation. In the future we should expect to see more practices embrace the ability for clients to make appointments directly with veterinary technicians.

Dr. Jim Hurrell, Director Emeritus of the Penn Foster Veterinary Academy, echoes the importance of credentialed veterinary technicians in shaping the future of veterinary hospital teams, as he says, "With so many of the practices now doing curbside service rather than allowing pet owners to bring their pets into the hospitals, credentialed veterinary technicians are now being utilized much more to make the initial contact with owners and their pets in their cars outside of the practice. This has also caused a dramatic increase in the utilization of credentialed veterinary technicians in other areas of the practice."

He continues, "This would include more client educations after the visit with the doctor, working within the practice with the doctor to meet the needs of the owners waiting outside in their cars, and even in some practices being utilized on the telephone as telemedicine continues to advance and develop in veterinary medicine."


Continued steady increase in pet ownership
2020 marked a sharp rise in first-time pet ownership as many Americans transitioned to working from home, desiring companionship more than ever and recognizing that they had more time to care for an animal. This trend likely won't slow down entering 2021, and practices should plan for how to meet this demand long-term.

Mark Cushing, founder and CEO of the Animal Policy Group and author of Pet Nation: The Love Affair That Changed America, vouches for this spike and the need to address it head-on, as he says, "Pet ownership in America now approaches 70% of households, and it's led by millennials and Generation Z. We've come to understand the human-animal bond and its simple lesson: pets make people and communities better."

He adds, "At the early depths of the COVID crisis we saw the spike in pet ownership and it won't slow down. This led to 2020 being the most successful year ever for veterinary practices, and our challenge is to produce enough veterinary technicians, nurses and veterinarians to keep up with the pace."


Pet insurance adoption will grow
One of the side effects of the pandemic for pet owners working from home is an increased attention placed on their furry friends. As a result, owners may be more likely to pay more attention to their animal's health and any questionable symptoms that may arise. Thus, we expect that owners will see a greater need to seek options for pet insurance to prioritize their animal's health for years to come.
As more pet owners lose employment or become furloughed, the thought of a serious medical procedure for their pet could take both a financial and emotional toll. Pet insurance can provide the security to not have to worry about the financial burden of a sudden health emergency, both in the shorter term for the duration of the pandemic and beyond.
Insurance
is a win-win for both the client and veterinary team, making the client more willing to accept certain treatments and providing employees increased flexibility and confidence that they can provide the necessary care to an animal without hesitation.
Telehealth services become a necessity for practices
Though telemedicine as a concept is far from a new phenomenon, virtual visits have become a norm during the pandemic. However, practices should expect telehealth to remain a function of their ability to provide flexible care based on clients' needs.

Molly McAllister, Chief Medical Officer at Banfield Pet Hospital, understands firsthand the value of technology in helping veterinary professionals foster relationships with clients and their furry friends, new and old. She says, "In this past year, we have seen the importance of the human animal bond play out in the numbers of pets welcomed into new homes and the ways that our human behaviors have been altered by that bond. Pet adoptions have risen and pet owners report being more attuned to their pet's health and are planning changes to how they care for their pet, now and when their life returns back to a new normal."

She goes on to say, "As we navigate social distancing and quarantines, telemedicine is serving an immediate need to ensure pets get proper medical advice when needed. As we move forward, this modality of care will ensure that we can make preventive care accessible to more pets and promote their health and wellbeing, whether we are helping them in our veterinary offices or via the internet."

Megan Chadwick, the Director of the Veterinary Academy at Penn Foster and Ashworth, agrees. "The pandemic has required us to reevaluate the way we practice medicine and care for patients. While we hope the state of the pandemic improves in 2021, the way we serve our animal community will be forever impacted."


Ensure continued success with a trusted training partner
Penn Foster has been looking closely into these trends, making sure that our training meets the needs of the modern workforce. If you'd like to learn more,
contact a veterinary training expert
.