Here's What 1,000 US Manufacturing Leaders Have to Say About the Future of Workforce Training
Posted by Michelle Ecker on December 1, 2020
Current trends suggest that by 2028, 2.5 million of today's manufacturing workers will need some form of yearly training, and approximately
21 million new hires
will need some form of new employee training.
Unless leaders take steps to plan for these mounting training and retraining needs, projections suggest that a growing headcount within manufacturing could be left unmet as industry leaders struggle to keep up with growing educational needs.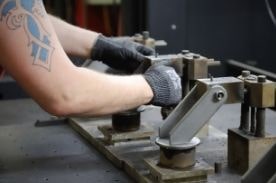 Why do so many manufacturing workers need training?
Part of the issue is that hiring talent sufficiently equipped with job-ready skills is becoming more and more difficult. As a result, leaders tend to hire the most prepared workers they can find but are then left to fill that gap themselves by providing training in whatever competencies are missing from the talent pool at their disposal.
This goes hand in hand with the fact that the industry has been changing and continues to change as time goes on. While we know the introduction of smarter technology should, in theory, simplify the manufacturing workflow, what seems to be forgotten is that without properly teaching staff how to work alongside and maintain said technology, the technology can't work on its own.
What do today's leaders think?
For one, many manufacturing leaders have begun to share concerns regarding struggles with hiring. According to the Penn Foster-sponsored
survey of 1,000 US based manufacturing leaders
, 61% share that they feel hiring will become a "critical challenge" as immediately as within the next three years.
When asked why they feel this way, respondents reiterate those concerns about finding "job-ready" talent. Specifically,
leaders shared
they struggle to hire manufacturing workers with "basic career-ready skills, mechanical aptitude, and adequate role-specific skills" within several crucial roles across their manufacturing workforce. Put simply- the talent they're interviewing to hire seemingly isn't previously trained or sufficiently ready to start working on day one.
How can we support workers with better training solutions?
A large part of the problem seems to be that today's leaders feel dissatisfied with the outsourced training they are currently receiving from education providers.
Of
those surveyed
, only 12% say they would actively recommend the outsourced training they are currently using, while a staggering 53% say they feel explicitly dissatisfied with the provider they are currently working with.
There is clearly an opportunity for today's training providers to better support the needs of their customers. Often this means providing flexibility by way of configurable curriculum tailored to the specific needs of organizations they work with. It also often means providing ongoing support and better-quality customer service. At the end of the day, leaders want to feel like they're partnering with education providers who are as outcomes driven as they are- not like they're being sold a product then left to go it alone.
Read more responses from our survey of 1,000 manufacturing leaders
Throughout these findings, you'll hear respondents express various concerns and share insights into the hiring challenges they're facing and the type of training programs they need. Our research compiled in the eBook, The Future of Workforce Training in Manufacturing, covers (among other things):
The industry impact of the Covid-19 pandemic and baby boomer retirement
Top characteristics that are challenging to hire-for in skilled trades roles
The types of training programs employers need
For more information like this,
download the comprehensive eBook
.