Build A Social Impact Strategy to Attract and Retain Talent
Posted by Des Sinkevich on July 29, 2020
In less than five years, millennial workers are primed to make up 75% of the American workforce. 94% of those millennials want to use their skills to benefit a cause, and 57% wish there were more company-wide service days. With a majority of the workforce focused on social change and community responsibility, brands that want to thrive today and in the future need to view corporate responsibility strategy and company culture as essential parts of their job-marketing process. These are vital to enticing a younger generation that wants to do work that does social good. Not only can a focus on doing good attract potential hires, but it can also help your company retain current employees and build a strong brand reputation that pulls in new clients.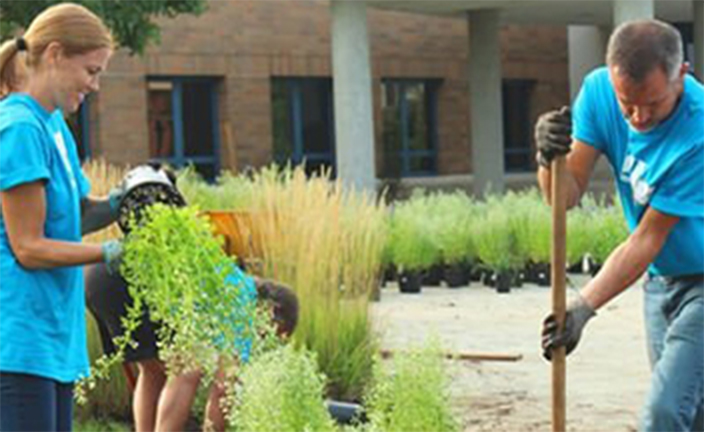 Winning over Millennial and Generation Z applicants
While the slew of articles deriding the younger generations for being more interested in avocado toast and posting photos on social media than building a career have slowed to a drip, there's still an underlying bias when considering the impact of Millennials on the workforce. The dominant thought is that they're demanding, entitled, and disloyal - jumping from position to position every few years.
Data shows that, yes, younger workers are more likely to leave a company within a shorter period of time. 22% of Millennials said they expect to change employers within five years, while 13% say they plan to leave their employers within the next six months. 52% think the concept of employee loyalty is outdated. And the same can be said of Gen Z. 78% of Generation Z employees plan to leave their current role within the next two years. However, the motivation behind this generational turnover is more complex than a lack of loyalty or entitlement. Understanding what drives the generations that will soon dominate the workforce is essential to attracting and retaining Millennial and Gen Z workers in almost every industry.
One of the most influential motivators that drive these generations to apply to a particular company is how that company views its role in improving the community and the world. In short, your company's social impact strategy can influence talented workers to apply while the lack of one can be detrimental to your hiring goals. With nearly 20% of workers aged 24-35 putting an emphasis on ethical reputation, workplace inclusion, and diversity when choosing an employer, it's important to define your business's social goals and mission.
Strong social impact guidelines can also improve the retention of current employees. 81% of Millennials expect companies to pledge to be good global citizens and in the previously mentioned study, Deloitte found that Millennial and Gen Z workers who felt that their employer took a stand on ethical issues were likely to stay with the company for five years or longer. Making a difference makes a difference in how loyal your employees feel about their place in the company.
What should a social impact strategy involve
Social impact strategies, above all, should be authentic. Simply donating to random charitable organizations isn't enough anymore; your strategy and charity need to align with your company's mission and goals. For example, the Banfield Foundation, the charitable arm of Banfield animal hospitals, focuses on making a better world for pets - which aligns with the work they do every day. When developing your own outreach program or corporate responsibility platform, start with these steps:
Focus on your company mission. What do you want to convey to clients, customers, and prospective employees? If you're focused on providing fair trade goods, for example, that's a great place to start building a social impact strategy. How can you further your involvement in ensuring access to fair trade products?
Search for gaps in your community. Corporate responsibility doesn't have to make a difference at a global level to be impactful. This is especially true if your company is based in one or two locations. What needs does the community you work in have? Start by addressing those and building outreach and volunteer programs for employees.
Listen to your employees. Many of your employees - especially the younger ones - have a clear idea of what's important to them. Survey the company to get a sense of what initiatives matter most to them and get them involved. This could start with a community outreach committee or social impact committee that determines the direction your strategy will take.
From there, you can take an authentic first step toward doing good that can benefit the community, the employees, and the company's bottom line.
An effective strategy starts in-house
Corporate responsibility initiatives don't have to be groundbreaking to make an impact. Often, the best place to begin building a social impact strategy is within your own company. Now, more than ever before, that involves ensuring employees have the skills they need to succeed in their role or even find a new role should they be displaced.
According to a CompTIA resource, 58% of employees say that professional development directly contributes to their job satisfaction, but 70% say they don't believe they have the skills needed to thrive in the future of work. Further, employees in all generations view an investment in employee training and development as a top factor when deciding where to work. With that in mind, offering education and upskilling programs to prepare your workers for promotion or even new roles in other companies is an essential strategy to attract and retain employees. It's also the perfect place to take the first steps toward a strong corporate responsibility strategy.
By removing barriers to education and offering in-depth training, corporations can not only prepare their workers for the future, increasing productivity and loyalty; they can make a clear impact on their workforce and the community as a whole.
A proven training partner can help
Offering education and training to employees can be a firm first step toward building a strong workforce and a strong brand reputation. With Penn Foster's proven training programs, your company can offer upskilling, reskilling, and outskilling options that will benefit your bottom line and lay a foundation for corporate responsibility strategy. Contact an expert training specialist today to find out where to start.
Sources:
Lou, Eddie. "Council Post: Why Millennials Want More Than Just Work: The Importance Of Your 'Double Bottom Line'." Forbes. Forbes Magazine, June 9, 2017.

Burden, Lisa. "Survey: Small Acts of Recognition Help Younger Workers Feel Fulfilled at Work." HR Dive, September 9, 2019. .

Rudominer, Ryan. "Corporate Social Responsibility Matters: Ignore Millennials at Your Peril." The Huffington Post. TheHuffingtonPost.com, December 7, 2017.