An Employer's Guide to Supporting Working Learners
Posted by Emma Rose Gallimore on June 17, 2020
As we navigate a rapidly changing economy, focusing on workforce development, upskilling, and outskilling is imperative to strengthening your workforce and preparing displaced workers to play a role in a new industry. A tuition assistance program or tailored employee training program is a vital first step toward building a workforce that will support your business well into the future. While education programs and outskilling initiatives might not make your business immune to the skills gap and other pressing market challenges, they will go a long way toward making sure you always have the middle skills workforce your business needs while maintaining a positive relationship with former employees that can boost your company's image.
But some employers who offer training programs believe that once they've given employees access to such a program, their work is done. They can just sit back and wait to see how employees will use the new resources. While you could do that, too, building a strong workforce development program, and ensuring its adoption, is essential to seeing a healthy return on investment. It starts with removing barriers employees may encounter when pursuing education and training.
Tuition assistance or employer-backed training programs are the first step to hurdling one major barrier. In a survey by Champlain College, up to 60% of adults say they'd like to return to school. About three-quarters of those said the reason they haven't is financial. They can't afford it and don't want to risk going into debt to go to school.
Other barriers working learners run into include a lack of support, little access to the necessary tools to complete and succeed in the training program, and an environment that isn't conducive to focused learning. Removing these barriers isn't only necessary to program adoption, it's vital to protecting your investment. Here's how to set your employees up for success.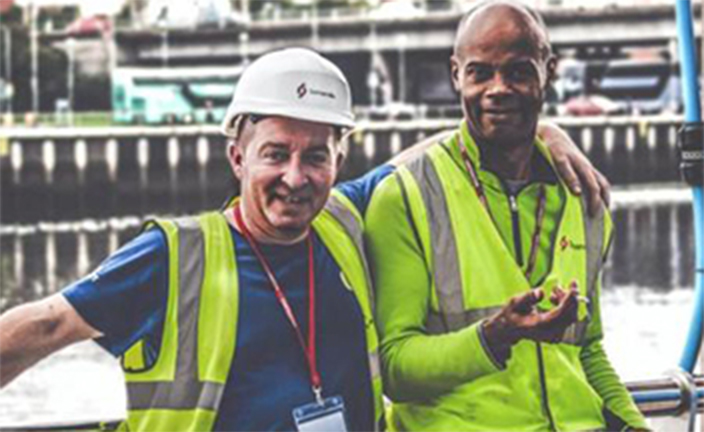 Make time for employee learning and education
Although each employee is different, you can be certain that all working learners are juggling multiple priorities. Every one of them must find time to study and learn while still meeting the demands of their jobs. Many may also have families with children, aging parents, or pets who need their care and attention.
Of course your employees still need to do their jobs, but learning is a part of that job. Pursuing educational opportunities will give them the tools to be more efficient, contribute more to the business, and meet new challenges as they arise.
Help employees prioritize studying and learning by giving them time during the workday to focus on school. Innovative companies like Google have proven that giving employees time to pursue personal projects can be a major boom for the company. The same is almost certainly true for education. This accommodation will earn you double benefits. Not only will it help employees move more quickly through the program, it also shows them that you are invested in their success, which builds goodwill and improves employee retention.
Recognize positive progress
Everyone likes being recognized for their achievements. You may already recognize the excellence of your employees in sales or customer service, so why not add academic excellence into the mix? Recognize and publicly praise employees for milestones in their learning journey. This might include completing a class, earning a certificate, or accruing credits toward a degree.
Public recognition of employees brings several benefits. First, it shows working learners that you value their work and appreciate their effort. Second, it proves to those who are not already enrolled in a learning program that the business cares about their success and will support them when they do enroll. Finally, it builds community and positive feelings.
You can recognize employee achievements by mentioning them in a team newsletter, handing out small bonuses, planning a special event, providing gift certificates or discount cards. Gallup has found that sincere praise from a direct manager or the CEO is among the most effective ways to make employees feel recognized.
Build a path for advancement
Although curiosity is a powerful motivator, most working learners return to school or pursue a certificate with a goal in mind. They want to make more money, advance to a new position, or take on more responsibility at work. To encourage the success of working learners and entice employees to enroll in the first place, you need to show them how their education supports their professional goals.
When employees can see where all of their hard work is taking them, they're more likely to stick with an education or training program. Checking on employee progress toward learning goals should become a regular part of your standard performance reviews. You should be able to point to other employees who have used training and development to help them advance or move into a new position. In some cases, you may want to facilitate a formal mentoring partnership between working learners and employees who have been where they are.
Partner to provide support
Despite your best intentions, you probably can't provide all of the support your employees need. You're an expert at running your business, not at supporting adult learners. An experienced education partner can help fill in any gaps.
Look for an education partner who provides wrap-around support in addition to a flexible curriculum. Ask about mentoring, career counseling, accountability, and personal and financial support for your learners before you enter an agreement with a learning partner. When you choose the right learning partner, you know that your employees are getting all of the support they need.
Helping employees learn does more than create more qualified employees for your business. It also improves morale, boosts retention, and shows employees that you care about their personal and professional development.
To give employees the help they need, start by finding an education and training partner who knows working adults. Penn Foster has been helping working learners succeed for more than 125 years. We're constantly evolving to provide support and resources for working learners and the businesses that employ them.