Banfield President Interviews Penn Foster Vet Tech Graduate of the Year
Posted by Des Sinkevich on October 21, 2020
As veterinary clinics continue to juggle an influx of new pet owners and increasing wellness checks from current owners, all while navigating updated covid-19 restrictions, credentialed vet techs have become more essential than ever. While the hard work of dedicated technicians has been celebrated each year during Veterinary Technician Week this year's celebration is a special one. As essential workers, veterinary technicians have been on the front lines during the pandemic, ensuring the wellness of clients' family pets.

Rounding out a week of webinars, celebration, and awareness of what it takes to be a veterinary technician, Banfield Pet Hospital President, Brian Garish, took time to chat with Keyana Beamon, a Banfield employee and Penn Foster 2020 Graduate of the Year.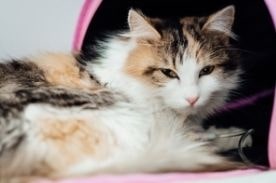 On becoming a veterinary technician
With a passion for learning but a less than flexible schedule, Keyana knew that an online school could be the best fit to reach her goals while working and caring for her daughter. She began her journey by completing the Veterinary Assistant career training program and securing a position at her local Banfield clinic. Encouraging education and growth for employees is an important initiative for Banfield and, with the support and encouragement of her manager and co-workers, Keyana took the next step in her career: enrolling in the
Veterinary Technician Degree Program
. Since graduating from the program, she's earned a raise, has been able to take on more responsibility in the clinic, and is passionate about going even further, working her way up to leadership within Banfield, and offering the same encouragement and support she received to other techs and assistants.
On the importance of credentialed veterinary technicians
"When I have the opportunity to talk to our doctors," Garish said, "I hear all the time how important a veterinary technician is." With that in mind Banfield Pet Hospital pioneered the concept of veterinary technician appointments, allowing them to work at the top of their license, benefitting both the hospital and the clients. Through vet tech appointments, the veterinarian can concentrate on more at-risk patients while still being able to keep wellness appointments. Since the beginning of the pandemic, being able to fully utilize skilled technicians has been invaluable as clinics deal with an influx of patients, curbside drop-offs, and implementing telehealth initiatives.

Within the last week, said Garish, they've had a record number of veterinary technician appointments. "I want more," he notes, not only to benefit the business but to allow vet techs to fully realize their purpose and work together with veterinarians, assistants, and clients to create a better world for pets.


The importance of Veterinary Technician Week
With all that veterinary technicians do to support veterinarians, hospitals, and patients, a week-long celebration may seem too short. But besides showing gratitude and acknowledging the work and skill it takes to become a credentialed vet tech, Keyana says that it's important for another reason: helping others understand what a veterinary technician is and does.
"People hear 'vet tech' and sometimes don't know what that means," Keyana shared with Garish. "We wear so many hats, it's nice to let people know what we do. It's not just a job, it's a passion."
Listen to the full interview
from Instagram Live here and learn more about Keyana in
this episode of our Alumni Spotlight podcast
.