How Medical Assistant Training Can Help Keep Rural Hospitals Afloat
Posted by Emma Rose Gallimore on October 7, 2020
At a time when healthcare is on everyone's mind, staffing continues to be a challenge for many facilities, especially hospitals and clinics in rural areas. Unfortunately, many rural hospitals struggled to meet staffing targets even before COVID-19 began to strain the entire U.S. healthcare system. Addressing that challenge is no simple task but offering training and workforce development opportunities to displaced and incumbent support staff can be a strong start.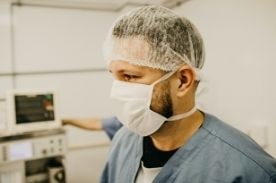 The challenge facing rural hospitals
A total of 120 rural hospitals have been forced to shut their doors in the last decade. In 2019 alone,
19 rural hospitals
closed their doors. That's the largest single-year closure rate of the last decade. Analysis reveals that a further 453 may be vulnerable or at risk. These closures impact the health of local communities in direct and indirect ways. Jobs are lost, residents must travel further for care, and hospital systems lose touchpoints in local communities. While in a normal year, that loss may be devastating, it's far worse as the world battles a pandemic.
Many factors influence whether a hospital is at risk including case mix, percentage of capital efficiency, changes in total revenue, and occupancy rates. Well-trained staff in the right place can impact several of these factors, causing ripple effects felt throughout the hospital.
With the right training, medical assistants and other support staff can learn to operate at the top of their license, which means they have the skills and confidence to perform all tasks allowed to them under the law. Medical assistants operating at the top of their licenses enable hospitals to achieve a higher percentage of capital efficiency. Since a medical assistant makes less than a physician assistant or registered nurse, they can perform the same procedure with less cost to the hospital. The result is a positive change in total revenue.
As the shortage of qualified frontline healthcare workers continues to grow amidst the pandemic, rural hospitals are poised to be the hardest hit. However, building up the skills of support staff like medical assistants can make a difference – effecting not only revenue, but quality of patient care.
Working at the top of their license
While each state has its own requirements for medical assistant credentialing, one fact remains true everywhere. Every task a medical assistant takes on equates to one less task for doctors, nurse practitioners, and other, more costly staff members. When you allow medical assistants to work to the top of their license, you free doctors and nurses to focus on the work they are most qualified for.
Check state requirements to understand what medical assistants are allowed to do in your state and whether credentialing is required. A non-credentialed medical assistant can do less than a certified medical assistant. They may need to be supervised more closely. On the other hand, the healthcare team can trust a trained and certified medical assistant to independently perform vital tasks like:
Scheduling patient appointments
Measuring and recording vital signs
Updating electronic health records
Preparing blood samples for the laboratory
Other essential clinical and administrative tasks
While medical assistants handle those jobs, doctors, nurses, and physician's assistants can provide more specialized care. Every procedure done by a medical assistant saves the hospital money and improves efficiency.
How to train medical assistants
Online, mobile-friendly learning programs can help medical assistants gain vital education while working full time. They can access training when and where it is convenient for them. Since they're working while they study, they can put their learning to use immediately. The hospital can start seeing results almost from day one.
Penn Foster's
Medical Assistant Accelerated Career Diploma
can prepare working learners to sit for one of four industry certifications:
The Registered Medical Assistant certification (RMA) offered by American Medical Technologists (AMT)
The Certified Clinical Medical Assistant certificate (CCMA) offered by the National Healthcareer Association (NHA)
The National Certified Medical Assistant certificate (NCMA) offered by the National Center for Competency Testing (NCCT)
The Clinical Medical Assistant Certification (CMAC) offered by American Medical Certification Association (AMCA)
Help new hires build essential skills and support existing employees to earn industry credentials by connecting them with online learning opportunities. It's one thing that rural hospitals can start doing right now to keep the doors open and keep serving their communities while offering competitive, local jobs. To find out more about how healthcare training programs can make a difference for your facility,
contact a Penn Foster training expert
today.