Offering Hope, Encouragement, and Knowledge During Vet Tech Week
Posted by Des Sinkevich on October 23, 2020
Veterinary technicians have become essential personnel during the pandemic, adapting to curbside appointments and telehealth to allow the veterinarians to focus on more dire client cases. While veterinary technicians are vital to a well-run practice in any year, this one has been even more challenging, and they've met that challenge head on. That makes celebrating their accomplishments and dedication during National Veterinary Technician Week especially important in 2020. Our Veterinary Academy staff, partners, and distinguished alumni came together to offer knowledge, hope, and encouragement to veterinary technicians across the country. If you missed a session or want to share the discussion with staff and learners, check out the recap of the week below.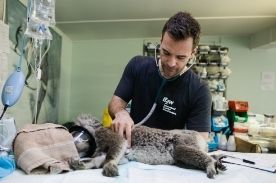 Meet Penn Foster's expert Veterinary Academy staff
Our Veterinary Academy instructors and staff consist of experts in the field, with real-world experience and a passion for caring for animals of all sizes. Get to know who they are and why they love what they do in our two-part distinguished faculty sessions.
In
part one
, meet instructors Brianna Ives, Veronica Benson, Vicki McLain, Amy Dunning, Dr. Angela Nguyen, and Director Emeritus, Dr. Jim Hurrell.
Then, hear from instructors Lauren Levish, Chandel DeLucca, Suzanne Fauver, Amber Sanna, and Academy Director, Megan Chadwick in
part two
.
Learn more about the Penn Foster experience
Our distinguished graduates and alumni are making an impact in veterinary medicine and we couldn't be prouder. Hear about their experiences in the program, how they make a difference as veterinary technicians in the field, and how they've overcome challenges.
In our
Distinguished Graduates Panel
, you'll hear from graduates Nicole LaForest, Simone Conwell, Mary Cox, and Paula Hargis about their Penn Foster journey and what they're doing in the field now.
Want to hear more about the learner experience and how Penn Foster programs have helped students become skilled, dedicated veterinary technicians? Our
Alumni Spotlight Podcast
goes in-depth with veterinary technician alumni. If you are interested in the program manager perspective, BluePearl's Program Manager, Amy Newfield shares her experiences as well.
Strengthen your industry knowledge
Continuing education is vital to being a successful veterinary technician and veterinary medicine practice. As part of our week-long celebration, expert professionals covered topics ranging from how to talk about pet insurance to maintaining positivity in an often-stressful field.
Learn more about:
Through engaging webinars, podcasts, and discussions, professionals from all areas of the veterinary medical field came together with a focus on encouraging and celebrating our essential veterinary technicians. We look forward to sharing more stories and insights in the next year, and continually growing the number credentialed veterinary technicians who offer care and support to pets and their families.