Why Now is the Best Time to Train Medical Assistants
Posted by Des Sinkevich on February 10, 2021
Even before the pandemic fundamentally changed the healthcare industry, qualified medical assistants were in high demand. The Bureau of Labor Statistics projects a
19% growth in jobs
, adding 139,200 new roles by 2029. After almost a year of battling the spread of COVID-19, with vaccines rolling out across the country, trained medical assistants are more vital to healthcare than ever. Offering industry-aligned, accelerated training options for those interested in joining the field can not only quickly increase enrollments at colleges and universities, it can also provide a pathway to certification for learners.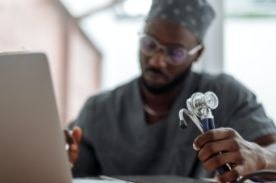 The role of medical assistants during the pandemic
In a "normal" world, medical assistants play a crucial role on a healthcare team, handling both administrative and clinical tasks while acting as a bridge between patient and physician. Now, their roles are amplified as they are tasked with administering COVID tests to patients in addition to their existing duties. As the dissemination of two FDA-approved vaccines is ramped up in the coming months, those duties could be expanded even further.

Already, there are plans to send vaccine doses directly to pharmacies. Soon, as the vaccines become more widely available, the need for more vaccination sites will grow – more than likely including doctor's offices. With physician's offices and urgent care clinics offering a more convenient location to schedule and receive a vaccination – while even seeing the doctor for a yearly checkup – certified medical assistants will play a large role in coordinating the increased office traffic and administering vaccinations to patients.
Leverage accelerated training to bolster frontline healthcare teams
Prior to the pandemic, there was already a known shortage of qualified healthcare workers and, in 2018, the industry became
the United States' largest employer
. We need medical assistants now, but traditional training programs can take up to a year or longer to complete – not including the time it takes to prepare for and earn the industry certifications that can allow those in the role to take on expanded duties like immunization. The solution? Accelerated, online training that can have medical assistants ready and able to step into much-needed roles in as little as six to nine months.
While an accelerated training and certification preparation program can make an immediate impact on the shortage of medical assistants, building an in-depth, approved program can take years. For colleges and training agencies hoping to add an in-demand diploma to their course offerings, the time it will take to build out these programs can mean losing out on valuable enrollments and clients.
Instead, working with a proven training provider to offer flexible, in-demand training can be the best move. With Penn Foster's accelerated, online
Medical Assistant Career Diplom
a, you can offer an effective pathway to certification and employment for your learners and clients. Through the program, students will cover the necessary knowledge to take on a medical assistant role, complete a hands-on externship, and prepare to sit for industry certifications like the Certified Clinical Medical Assistant exam offered through the National Healthcareer Association.
Prepare learners to play a vital role in healthcare